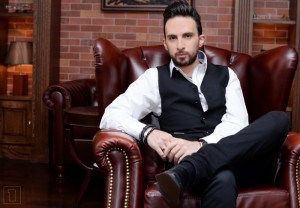 Following the presentations of Europe and America in Genealogy, today Vahe Tilbian was announced as the African member of the project which will represent Armenia at the Eurovision Song Contest. He is a singer as well as dancer, born and raised in Ethiopia.
First up was Essaï Altounian representing Europe in Genealogy, then followed Tamar Kaprelian from America. Today Vahe Tilbian was presented as the African part. They will be three more of which one will be from Asia and another from Australia.
Vahe Tilbian is born and raised in the country of Ethiopia, located on the Horn of Africa in the north east part of the continent. He is well educated frm University of British Columbia in Vancouver, Canada and speaks 5 languages: Armenian, English, Amharic (the national language in Ethiopia), Italian and French. Vahe has released a couple of albums and is planning to more, one in Armenian and one in Ethiopian.
The Armenian entry Don't Deny hasn't been released yet, but is expected to follow after the remaining artists has been presented. The next one will follow on the 27th of February.
You might also like to read: