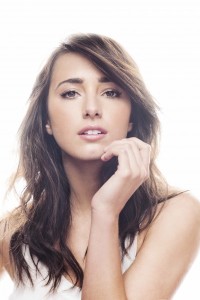 Today followed the presentation of the second member of the Armenian Genealogy project. 28 year old recording artists Tamar Kaprelian will represent America in the project that is the Armenian act for the Eurovision Song Contest. 
Six members from five different continents. In short that is the Armenian project for the Eurovision Song Contest this year.
Previously Essaï Altounian was presented as representing Europe, and today followed then Tamar Kaprelian for America. Tamar is 28 years old and currently living in New York. She released her first studio album, Sinner or a Saint, in 2008. Two years later an EP titled California hit the streets and in May, the month of Eurovision yet another EP should be ready. That one is mentioned to include three new songs and three cover versions.
The Genealogy project is getting lots of attention due to its story of all these Armenian origin singers spread over the world which now will be united in the song titled Don't Deny. You can read more about that in our previous coverage in the links below.
You might also like to read: