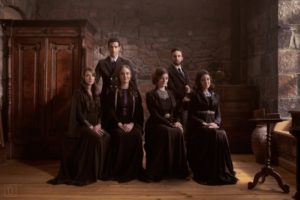 Due to the idea behind Genealogy and the title of the enty, all attention was on Armenia this evening. Would they present a song that would force EBU to take actions or would they stay within the rules? At the same time as the song was presented this evening, the sixth band member was revealed as well and it's a former Eurovision participant.
A month ago the Armenian broadcaster revealed the idea behind their Genalogy project for this year's Eurovision Song Contest and also the title of their entry, Don't Deny. Speculations immidiately took over as this could potentially be something that would go against the rules for the participating songs, set by the European Broadcasting Union.
The song:
With the premiere this evening of Don't Deny, it seems fairely sure that this stays within the rules. Another thing which is fairly sure is that Eurovision fans will be screaming "No, not another ballad" as that is exactly what it is, another ballad for a contest that already has quite some.
The band members all have their solo parts in the song with Mary-Jean O'Doherty Vasmatzian as the one that stands out the most with her opera background, something which is clear to hear.
Genalogy members:
Five band members had already been presented. They represent each their continent, but all have Armenian roots. Along with the release of the song this evening also followed the sixth member: Inga Arshakyan. She is a familar name as she already represented Armenia at the Eurovision Song Contest in 2009 together with her sister. They have been touring as a duo since 2000 and released four albums. For this project, Inga will be without Anush, but she will have five others with her instead.
Below you can watch the offical video to Don't Deny, the song that will represent Armenia at this year's Eurovision Song Contest.