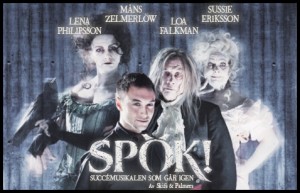 Cobwebs are being dusted off an old musical as we speak, with Lena Philipsson and Måns Zelmerlöw preparing hard, due to bring fun and frolics from the stage in Stockholm from mid Septemberand until the end of the year.
Hit musical Spök! (Ghost!) received its premiere over thirty years ago, back in 1981. It was written by Björn Skifs, twice former Swedish entrant at Eurovision together with Bengt Palmers. Skifs starred in the original production, which became an instant smash hit and went on to run for two years, repeatedly playing to a full house. Anders Berglund, having conducted for Sweden countless times also provided yet another Eurovision connection, having arranged the original production in its day.
Fast forward thirty or so years, and there's still life in the musical yet. As we speak, yet another former Eurovision entrant, Lena Philipsson together with Melodifestivalen participant and schlager fan favourite Måns Zelmerlöw are hard at work preparing themselves for the opening night for the musical, Spök! The plot revolves around a young popstar, Dante (Zelmerlöw) who is lured to Bränningehus castle under the pretext that he'll find peace and quiet there to work on new songs. The real motive for getting him there however, is so that he'll die a ghastly death, just like his ancestors. The castle is inhabited by two ghoulish sisters, Giljotina (Philipsson) and Salmonella (Sussie Eriksson), who were forever cursed after being spurned by Dante's ancestor, after which they threw themselves off a cliff. The curse that followed can only be lifted if all of the male descendants of the casanova die in the same way the sisters did. Team the sisters grim up with a ghastly butler by the name of Bernhard (Loa Falkman) and you have the ingredients for a laughter packed comedy of the darkest kind.
Due to start it's run on the 13th of September at the Cirkus venue in Stockholm. A total of fifty four performances will be given throughout the autumn, culminating in the final show on the 14th of December. Tickets are already on sale, starting at SEK 530 and upwards and can be purchased on the Ticnet.se website.
You might also like to read: