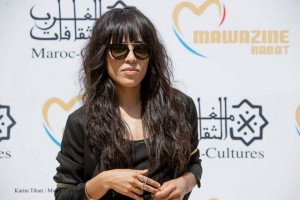 World class stars stood on the same stage mere days before her, and Friday night was the turn of former Eurovision winner Loreen to take to the same stage, giving her first appearance in Morocco, birthplace of her mother.
Loreen joined a list of huge names such as Rihanna and David Guetta when she took to the stage as part of the annual music festival Mawazine Rythmes du Monde in Rabat, Morocco. As a warm up act for the superstar Enrique Iglesias, Loreen gave quite the show before some 45,000 spectators, which according to the star herself was a "powerful experience".
Since winning Eurovision, Loreen has made quite a name for herself outside her native Sweden, not least due to the monster success of her Eurovision winning entry Euphoria. Northern Africa is the latest region to fall under her hypnotic spell, and Loreen looked to have quite the rapport with the audience. As the Swedish megastar told all present during a press conference after her appearance: "The region is still quite the stronghold for the traditional male dominated society, and so the notion of a woman getting up on stage doing her thing in a formal kaftan is still somewhat unconventional." But the crowd couldn't get enough of her, as she treated them to  her performance of her new single We Got The Power, preluded by the Bob Marley classic, No Woman, No Cry.
Prior to the concert, the star spoke of the concerns she had for her appearance: "I'm so nervous. As a performer, I have this overwhelming desire to connect with the audience. People back home in Sweden know who I am…I'm so concerned about how people will react to me here, as a woman, on stage." She needn't have worried however, as the audience were enraptured as she belted out her biggest hit, Euphoria. Her appearance also earned praise from Iglesias and regional media at the event spoke enthusiastically about the star, telling of how Euphoria had gone on to become a massive hit in both Morocco and Tunisia.
The music video to her latest hit, We Got The Power, can be seen below.
You might also like to read: