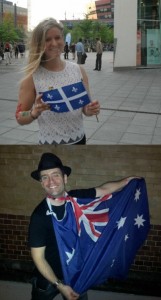 The massive interest in the Eurovision Song Contest around the world is growing even bigger.  Besides the normal coverage to Australia, this year China broadcast the 2013 contest.  Fans from all around the world came to Sweden to watch the show and participate in the fun.
Emmelie de Forest triumphed for Denmark in the 2013 Eurovision Song Contest with Only Teardrops.  Her win was witnessed by millions of viewers all over Europe.  But the show was also viewed in Australia, where the broadcaster, SBS,  provided their normal comprehensive coverage.  China broadcast the show this year potentially boosting the viewing figures by millions.
Many fans from around the world descended on Sweden to watch the 2013 Eurovision.  Fans from South Africa, New Zealand, Panama, Mexico and Uzbekistan were there to witness this wonderful event.  There were even more fans from Australia than usual this year including in our photograph, Kohan, from Perth.
There were also fans from Canada in Sweden.  Eurovision has also become popular over there and spread in to the mainly French speaking province of Quebec.  In our photograph you will see fan, Camilla, with Quebec flag.  Of course, legendary singer, Celine Dion, who won the the 1988 Eurovision Song Contest for Switzerland, with Ne partez pas sans moi, is from Quebec.
There is no doubt the EBU has the most popular entertainment show in the world.  Now we look forward to the 2014 Eurovision Song Contest in Denmark.

You may also like to read: