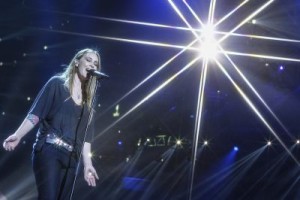 As reported earlier here on Eurovisionary, this year's Eurovision final proved to be a ratings smash in Denmark. But Danes weren't the only country to get into the Eurovision spirit of things, as both Norway, Sweden and The Netherlands also experienced some pretty impressive viewing figures.
Eurovision has enjoyed immense popularity in Denmark for quite some time now. With Emmelie De Forest installed as the pre contest favourite, it was hardly surprising that the final attracted almost 80% of the viewing market on Saturday. The positive viewing trend was also replicated in a number of other countries, where expectations for their entrants were high.
Norwegian broadcaster NRK hasn't hidden the fact that they were struggling with viewing figures for their national selection, due to increased competition from other programmes on rival channels. At one point, viewing figures were down by a massive 300,000. Over 1,65 million Norwegians tuned in to watch the Margaret Berger take Norway to 4th place with I Feed You My Love in Saturday's final, making it the most watched TV show this year. Giving NRK an 84% market share, gives the state broadcaster positive indications concering the renewed popularity of the programme in Norway.
The trend continued in neighbouring Sweden, where media report that an astounding 3,4 million viewers made Eurovision their programme of choice last Saturday, watching homeboy Robin perform You on home turf. The figure is the highest number for the contest in six years, but is pipped at the post by viewing figures from the last time Sweden held the contest in 2000. Back then, an unbelievable 3,78 million tuned in. SVT are however extremely happy with the result, estimating the viewing figures to be considerably higher, with more and more watching the contest on the internet.
The contest was an unmittigated success in the Netherlands too, attracting 4.85 million viewers. Prior to the show, TROS also broadcast a warm up programme, Op Weg Naar Het Songfestival, which 2 million chose to get in the Eurovision party mood with. During Anouk's performance of the smash hit Birds however, ratings surged, leaping from 4,85 to a whopping 5,9 million viewers. Chosing to scrap their initial plans of a national final and sending Anouk as an internal selection was probably the smartest move TROS could have made in order to ensure continued interest for the contest in the Netherlands.
You might also like to read: