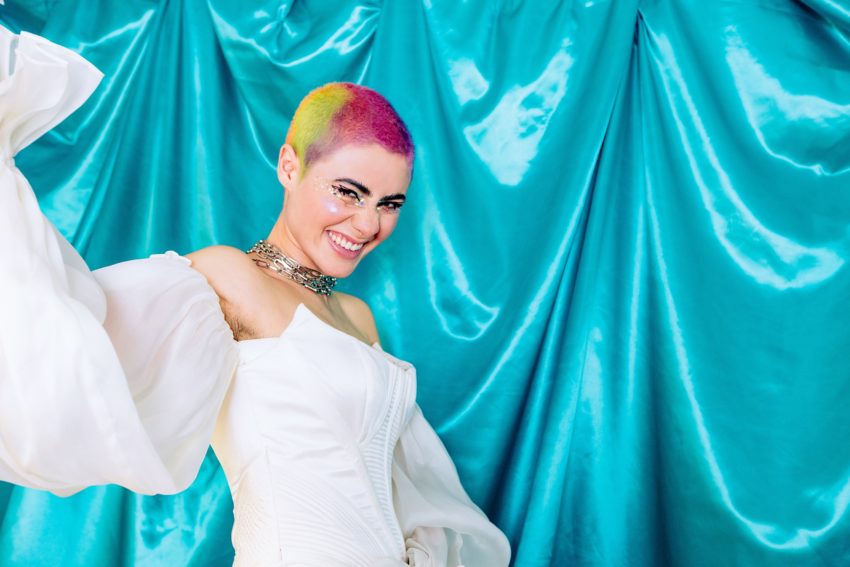 Montaigne represented Australia at the 2021 Eurovision Song Contest. She didn't qualify for the Grand Final this year, but will she win the hearts of our Eurovision Fan Panel as they disucss another of her songs?
Because I Love You was released in June 2016 as the third promotional single for Montaigne's debut album Glorious Highlights. The song was certified platinum in Australia and peaked at number 98 on the ARIA Charts, the main Australian music sales charts.
In an interview with The Music AU, Montaigne explained the idea behind the song: "a look back at what you'd known to be a healthy and fulfilling relationship whilst experiencing it, but with a little perspective discovered was pretty bad". She described this song as "the most fun thing [she's] ever written".
Because I Love You is a straight-up pop gem on the topic of love is blind. It reflects on a failed relationship and describes the lengths to which people are willing to go to in an attempt to disregard problems they might face with their significant other.
In spite of the deep meaning of the song, our Eurovision Fan Panel still seems to have a problem with Montaigne's voice and performance.
Because I Love You – opinions from fans
In order to find out what Eurovision fans think of this song from Montaigne, we asked our Eurovision Fan Panel. It includes team members as well as fans from all over the world.
🇬🇧 Michael O. – This is a much more accessible song than her 2021 Eurovision entry. In fact, it's a pity she hadn't kept it for Eurovision as this surely would have seen her into the final. One of Montaigne's better songs.
🇨🇿 Josef Š. – I am afraid that I'll never become a fan of Montaigne and her music. I didn't like Break Me and Technicolour was only a little bit better, but her style overall is not my cup of tea at all. To me, Montaigne's voice is annoying, and I think she tries to sing vocally demanding pieces, but it's out of her league. I'm sorry, Montaigne, but it's a no from me.
🇩🇰 Charlotte J. – I didn't like what should have been her 2020 Eurovision entry, and I also didn't like her 2021 entry. Those were the only two songs I had heard – until this challenge. I was not looking forward to yet another song by her. Unfortunately, this is now the third one I have heard, and I don't like it. I can't put my hands on what it is, but there's something about the music and her singing, which just puts me off. Sorry to her fans out there, but she is all yours. I will be just fine not hearing another one of her songs. Sorry, just not for me.
🇬🇧 Paul G. – I am not a fan, to be honest. I didn't particularly like her Eurovision entry. She has a distinctive voice, but for me this song too is a bit "meh"!
🇳🇱 🇩🇰 Wouter V. – Ok, so it's not just in Technicolour and Don't Break Me, Montaigne's voice just has something to it that resonates in a highly unpleasant way with my eardrums. I don't necessarily deny its qualities, they're just not for me to enjoy. On top of that, I don't like the music either.
🇹🇷 Gunec G. – The song reminds me of the soundtracks of the 80s films. I like that energy. I love Montaigne's unique vocals. And I still can't believe Technicolour couldn't make it to the final, although I liked Don't Break Me more.
🇩🇰 Tina M. – A simple and easy pop song that just runs in the same groove over and over again. Montaigne's voice just seems annoying to me. It's definitely not a song I like.
🇮🇹 🇬🇧 Maurizio V, – I really like this song and I think Montaigne has a very distinctive music style. I like her art-pop sound and the lyrics of this song are fun. Her 2020 Eurovision entry, Don't Break Me, was very good, but I can't say the same about Technicolour. I can see that she's not everybody's cup of tea but, in my eyes, she's such a unique artist.
Enjoy Montaigne's Because I Love You in the embedded video. Below the video, you can read more about her.
Montaigne – a mini biography
Montaigne is the stage name of Australian art-pop singer and songwriter-musician Jessica Alyssa Cerro, born on 14th August 1995. She performed her first-ever gig at the age of 17 under the name Jess Cerro, whereas her first show as Montaigne came a few years later as the support act for the Australian indie-pop band San Cisco in Adelaide.
She waited until finishing high school to pursue her music career. In 2014, she released her first two singles I Am Not An End and I'm a Fantastic Wreck. She won Fbi Radio's Next Big Thing Award at the SMAC Award, which recognises the musicians, artists, performers, restaurants and events that shaped Sydney's creative culture in 2014.
In 2015, Montaigne released the first three singles from her upcoming album: Clip My Wings, In the Dark and Because I Love You. In 2016, she released the album Glorious Heights and won the ARIA award for Breakthrough Artist – Release.
Her second album Complex came out in August 2019. In December of the same year, she won Eurovision – Australia Decides, the Australian national final, with the song Don't Break Me. Due to the COVID-19 pandemic, she was unable to perform in Rotterdam for Eurovision 2020. However, broadcaster SBS confirmed that Montaigne would represent Australia again in 2021. Unfortunately, her new entry Technicolour failed to qualify for the Grand Final.