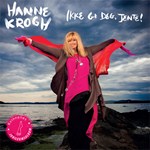 One of Norway's most popular artists, Hanne Krogh, otherwise known as one half of Bobbysocks is back,
releasing a new concept album, Ikke Gi Deg, Jente! today. Besides her obvious connection to Eurovision, fans will be glad to discover a few other Eurovision suprises, too.
As a follow up to last year's childrens album Barnas Nasjonalskatt, former Eurovision entrant and winner Hanne Krogh has released her latest album, Ikke Gi Deg, Jente! (Don't Give Up, Girl!) The album is described as being a tribute to brave women everywhere, who acted as shining examples of inspiration to others, while at the same time celebrating being a woman in general. The album contains twelve tracks, all of which were recorded during the first half of this year.
Hanne is known to many fans, both for her solo participation for Norway in 1972 with Lykken Er, and of course, for her euphoric first win for Norway in 1985 with Bobbysocks and La Det Swinge. The victory opened all kinds of doors for her, and she returned to the Eurovision in stage as part of the quartet Just 4 Fun, performing the cult favourite Mrs. Thompson, albeit with considerably less success.
A pleasant surprise for fans of everything Eurovision, is that Hanne has enlisted the help of two other Eurovision colleagues on her latest studio offering. Prolific songwriter Hanne Sørvaag, who, besides penning numerous entries in the national selection, has also partly penned three former Eurovision entries, helps Hanne on the lead single from the album, Eva's Døtre (Daughters of Eva). The song deals with solidarity among women. Another Eurovision name, former band mate Marianne Antonsen from Just 4 Fun is also on hand to provide vocals on the album.
The track listing on the album is as follows:
1.  Camilla
2.  Evas døtre (Daughters of Eva)
3.  Ikke gi deg, jente! (Don't Give Up, Girl!)
4.  Frederikke fra Trøndelag (Frederikke From Trøndelag)
5.  Ta meg til havet (Take Me To The Sea)
6.  Leve mens jeg gjør det (Live Life While I Can)
7.  Sunniva
8.  Lovise Lind
9.  Elisabet Stava
10. Alle gode ting er tre (All Good Things Come in Threes)
11. Du bærer mitt hjerte (You Carry My Heart)
12. Jeg ror alene (I Row My Boat Alone)
Ikke Gi Deg, Jente! is released on Hanne's own label, Hanne Krogh Productions AS. A brief excerpt from Eva's Døtre together with images from the recording of the single can be seen below.
You might also like to read: