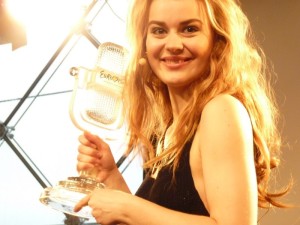 10 days after the final of the 2013 Eurovision Song Contest in Malmö ten entries have entered the official German single charts. Winner Emmelie de Forest scores the highest ranking entering the top 100 on 5th position.
Ten entries of this year's Eurovision Song Contest made it into the official German single charts. The Danish winning entry Only teardrops by Emmelie de Forest scored the highest new entry and can be found on 5th position. Since 1997 only three Eurovision winners could reach a higher chart position in Germany: Alexander Rybak (#4), Lena (#1) and Loreen (#1). Lordi's highest position in 2006 was #5 as well.
These are the lucky ten who made it to the German single charts:
#4 Emmelie de Forest – Only teardrops
#24 Margaret Berger  – I feed you my love
#39 ByeAlex – Kedvesem
#49 Anouk  – Birds
#58 Robin Stjernberg – You
#70 Gianluca Bezzina – Tomorrow
#78 Dina Garipova – What if
#79 Marco Mengoni – L'essenziale
#84 Krista Siegfried – Marry me
#85 Koza Mostra feat. Agathon Iakovidis – Alcohol is free
In the past Eurovision entries disappeared quite soon again from the German top 100. It will be interesting to see how long Emmelie de Forest will stay in the charts and if she can manage to climb up even higher. The first German radio stations have already put the song to their playlists.