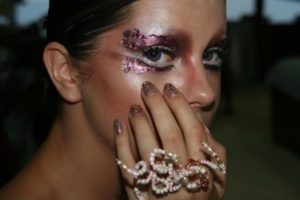 Current flavour of the month in Estonia, Birgit Õigemeel, sheds the girl next door image upon the release of her newest single, Sea Of Life. The song is a collaboration with previous Eesti Laul girl group Violina.
The follow up single to  Birgit Õigemeel's entry at the 2013 Eurovision Song Contest Et Uus Saaks Alguse is a different sound altogether. Gone is the classic, flowing dress and the charming look, ditched in favour of a more avant garde, shipwrecked nymph look paired with dramatic make up and some striking visual imagery.
The song itself is a stomper of an anthem, quite similar in style to David Guetta and will no doubt have dancefloors around the Baltic jam packed within no time. Birgit and Violina have a shared history in the national selection Eesti Laul, having performed together last year with You're Not Alone, ending in seventh place. The project obviously gave the team a taste for more, with Sea Of Love being the result. The same songwriter is also behind their newest release, namely musician and composer Mihkel Mattisen working together with producer Timo Vendt., who also incidentally produced their Eesti Laul 2012 entry.
The video for the Sea Of Love was filmed back in November last year in Egypt, on the banks of the Red Sea. It was directed by American Arin Crumley, who also has been assisted by choreographer Isis Masoud and video producer Christie Strong. Sea of Love was released on the 21st of May and will bring Violina to a wider market, with record label Enjoy Entertainment planning on giving the single an international release. The video for the brand new single can be seen below.
You might also like to read: