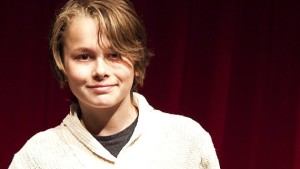 Elias Elffors Elfström was tonight selected to represent Sweden at the 2013 Junior Eurovision Song Contest with his song, Det är dit vi ska (That's where we're going).  The national selection, Lilla Melodifestivalen, took place at the Gröna Lund Amusement Park in Stockholm.
It is only a short time ago that the adult Eurovision Song Contest finished.  Already countries are preparing for the 2013 edition of the 2013 Junior Eurovision Song Contest.  Following the selection by Russia on 2 June, Sweden took the spotlight by holding the Lilla Melodifestivalen.  The national broadcaster, SVT, broadcast the show on P4 radio station only and a video of the song will be broadcast later in the year.
There were eight songs competing for the honour of representing Sweden in Kiev in November this year.  They were –
Märta Kölqvist & Mimi Bergman Var dej själv!
Mathilda Lindström Lycka
Elias Elffors Elfström Det är dit vi ska
Klara Sundin Jag är en ros
Rami Style Nivå från topp till tå
Mazen Awad Kämpa
Vilhelm Buchaus För alltid och en dag
Tilda Anvemyr För alltid
Elias is 13 years old and was recently a finalist at the Helges Talangjakt in Sweden.  The winning song and act were selected by an expert jury made of Christer Björkman, Carolina Noren and Jan Lundqvist.  
You can hear Det är dit vi ska below and also see Elias performing a version of Bohemian Rhapsody by Queen below.
You may also like to read –