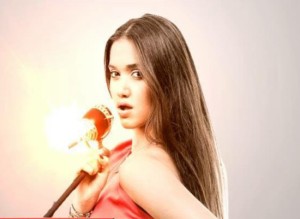 Liza Kenia was a member of the Group Princesses, who represented Georgia at the 2009 Junior Eurovision Song Contest with the song Blue Bird.  Liza has since gone on to have solo success in her homeland.  Now she has reached the grand final of the Voice Kids Georgia competition.
Group Princesses won a lot of hearts at the 2009 Junior Eurovision with the beautiful Blue Bird song.  The group consisted of six girls (Mariam Gurgenidze, Mariam Bokeria, Elene Makashvili, Lizi Ramashvili, Ana Tkeshelashvili and Liza Kenia).  The girls took Blue Bird to sixth position in the Junior contest that year.
Liza Kenia is the daughter of a very popular singer in Georgia, Maia Jabua.  Liza has even dueted with her mother on the stage when she was a little girl.  She likes both pop and classical music.
Liza has recorded several solo songs since the Junior Eurovision including a song in the Georgian language translated as Only For You.  She has also recorded some cover versions of songs like Titanium by David Guetta and Take  A Bow by Rihanna.  Liza also took the runner up position at the Nutsa's School music competition in Georgia. 
Now Liza's popularity is growing even more by reaching the final of the popular Imedi tv competition, The Voice Of Kids Georgia.  The final is on 28 May.  She is hoping for success in this competition and dreaming to represent Georgia at the Eurovision Song Contest in the future.
You can see Liza perform Take A Bow on The Voice Of Kids Georgia below and also the video of Group Princesses with Blue Bird.

You may also like to read: