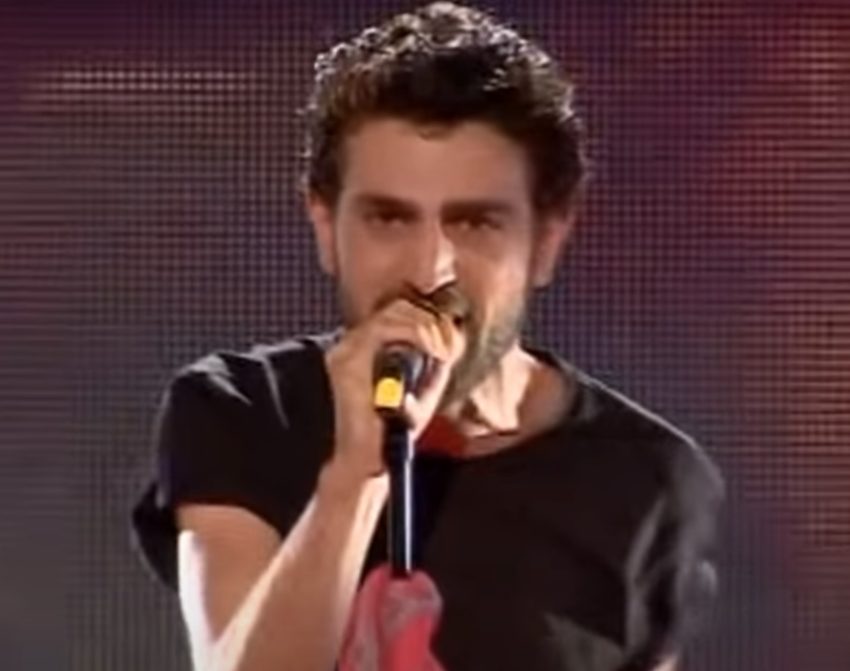 Tornike represented Georgia at the 2021 Eurovision Song Contest. He has much more to offer than what he showed at Eurovision however. His Kylie Minogue cover of 'I Just Can't Get You Out Of My Head' is a very good example of that.

Many people agree that his song choices for Eurovision 2020 and 2021 were wrong as the songs, Take Me As I Am and You respectively, didn't show the power of his voice.
Through talent shows like X-Factor and Idol, we know what Tornike has much more to offer. Today, we take a look at his cover version of I Just Can't Get You Out Of My Head.
I Just Can't Get You Out Of My Head – opinions from fans
In order to find out what Eurovision fans think of this song from Tornike Kipiani, we asked our Eurovision Fan Panel. It includes team members as well as fans from all over the world.
🇬🇧 Kat H. – Wow – I was fairly shocked to hear Tornike singing the Kylie classic, but as a fan of alternative genres I was pleasantly surprised. I very much enjoyed his version, despite there being quite a few bum notes in his live performance. I would happily listen to more from him!
🇸🇪 Jill R. – Tornike's interpretation of I Just Can't Get You Out Of My Head is really different, and I think I like it. I am a little torn since I really like the original, and his version lacks some of the best parts from that. But if I were to think of it as a new song, not a cover, I am sure I would like it a lot. But then I am a bit of a rocker in my soul, so it is probably not for everyone. I adore his voice, which I also did in Eurovision. It would be interesting to hear something newer from him.
🇦🇺 Michael R. – I'm not usually a fan of Tornike, I've liked neither of his songs, but this cover is amazing! His voice fits so well with it and the harmonica adds a nice touch too.
🇬🇧 Michael O. – A different enough version for sure, but no one touches Kylie.
🇮🇪 Paul K. – Oh wow, this is actually sick! His gnarly voice is what I absolutely adore about him and definitely adore it in this performance. The only thing is the harmonica wasn't my favourite part, but other than that, everything was great. I love it!
🇩🇰 Charlotte J. – This is a great example of why rock is a lot more suitable for Tornike. It's a really good cover version. The danger of such songs is that one can easily start comparing to the original. In this case, I am however never tempted to do that. I am all caught in his version, and I never think about the original one.
🇨🇿 Josef S. – This is a version of a Kylie Minogue song I never expected to hear. It is really different. Actually if you don't pay attention, you maybe don't even notice it is the same song. But Tornike has a good voice for this rocky cover versions or songs similarly. But as a personality I don't like him and don't know if this may change in the future.
🇮🇹 🇬🇧 Maurizio V. – This is a unique cover of Kylie Minogue's hit single. Tornike is a rocker – we know from his screaming vocals – and he interprets this song in a totally new way, from a very different point of view. That being said, Tornike doesn't appeal to me, I'm still trying to figure him out as an artist. He's got quite a voice, I must say, but he's very aggressive in the way he sings. Great effort and good performance, but this song is just not for me.
🇳🇱 🇩🇰 Wouter V. – It's rare that I hear a cover version with new arrangements in a talent show that I can actually bear to listen to all the way to the end. They often start of nice and interesting, but then frequently either stay too close to the original that it just sounds weird, or wonder off in a totally wrong direction. But this is one of those rare occasions where all the changes make sense, both to the song and the performer's vocals. Simply great!
🇹🇷 Gunec G. – Now this is my Tornike 🙂 I remember him in the Georgian Idol 2020, he blew me away. This Kylie Minogue cover is also something. Tornike is a very strong artist, that no one can deny. The thing about his Eurovision failure is all about a wrong choice of song, I think.
Enjoy Tornike Kipiani's I Just Can't Get You Out Of My Head in the embedded video. Below the video, you can read more about him.
Tornike Kipiani

– a mini biography
Georgian artist Tornike Kipiani was born on the 11th of December 1987 in Tblisi Georgia. He won the first season of X Factor Georgia in 2014. He has released his single You Are My Sunshine (a duet with Giorgi Bolotashvili) in 2017
In 2020, he won the Georgian Idol which made him a huge name in his country and gave him the opportunity to represent Georgia at the Eurovision Song Contest in Rotterdam. He prepared a song called Take Me As I Am, but sadly, he couldn't go to Rotterdam when the contest was cancelled, because of Covid 19 pandemic, for the first time in history. However, he was honoured by the Georgian broadcaster again to represent the country in 2021. This time he prepared a ballad called You. Despite his good performance on stage in the second semi-final, he received only 16 points and placed 16. Thus, he couldn't make it to the finals.