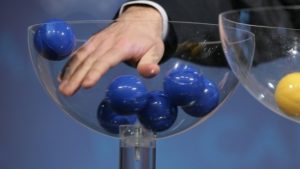 Following the result of the second semi-final, the last ten lucky qualifiers made it to the press conference after the special draw took place behind the scenes. The draw decided whether they would perform in the first or the second half of the final on Saturday, the 22nd of May.
The final is now complete. The last ten acts secured their spot in the final in tonight's semi-final, after a draw took place off camera. After the pre-qualified acts as well as the qualifiers from first semi-final had drawn, there were six spots left for first half and four for second half.
Below you find a table in where you can see who will perform where in the final. The actual running order will be decided by the producers sometime tonight.
| | |
| --- | --- |
| First half | Second half |
| United Kingdom | The Netherlands (#23) |
| Spain | Germany |
| Israel | France |
| Malta | Italy |
| Russia | Norway |
| Cyprus | Azerbaijan |
| Belgium | Lithuania |
| Albania | Sweden |
| Greece | Ukraine |
| Serbia | Finland |
| Switzerland | Moldova |
| Iceland | San Marino |
| Portugal | Bulgaria |