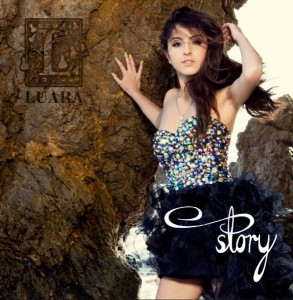 Luara Ayrapetyan represented Armenia at the 2009 Junior Eurovision Song Contest with her song, Barcelona.  She went all the way to the runner up position.  Now she has released her brand new single entitled Story.  She has also recorded a promotional video to accompany her new release.
Luara Ayrapetyan is an Armenian singer but was born in Astrakhan in Russian in 1997.  Her performance of her song, Barcelona, at the 2009 Junior Eurovision won over many fans and viewers and she finished in second place that year.
Luara has won many competitions both in Armenia and internationally.  She won the junior section of the Slavianski Bazaar competition in Belarus in 2008 and has had considerable success in festivals in Russia too.
Earlier this year she released Fire In Me.  This was an upbeat and commercial pop/dance song that provided her with a big hit in Armenia.
Now Luara returns with her follow up release called Story.  The song is a powerful, midtempo pop song that is set to bring her more success.  There is a beautiful promotional video for Story that you can see below.  The song is produced by Peter Stenggard and Mihran with lyrics by Lisa Lewolt.
You can download the song for free and read more information about her at Luara's official website.

You may also like to read: