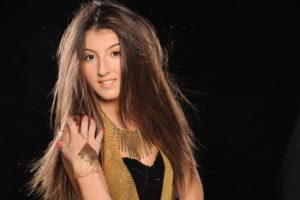 Luara Ayrapetyan represented Armenia at the 2009 Junior Eurovision Song Contest and finished in second place with the song, Barcelona.  Now she returns with a brand new single and video, Fire In Me.
Luara has been waiting for the right moment to release her first single and video since the 2009 Junior Eurovision Song Contest.  She has appeared in several music festivals in Armenia, Russia and other countries.  She has been working hard in the studio and recording several songs.
Now is the time for Fire In Me. This hot new song is composed by Norman Henry Mamey and lyrics by Adrian Russ is an uptempo and commercial pop dance song.  The track is produced by Peter Stenggard and Mihran.  The video is directed and choreographed by Mihran.
You can find more information about Luara at her official website and also download for free the Fire In Me track.
The video for Fire In Me below can viewed below.

You may also be interested in reading: