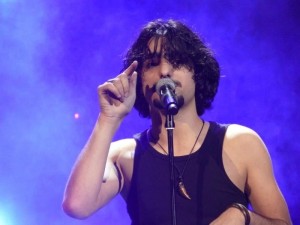 Gor Sujyan, one of the biggest rock singers of the country, will be flying the Armenian flag in Malmö. The song, which he will perform at the Eurovision Song Contest, will be the favourite of both the televote and the professional jury and the decision will be made on March 2.
In the last days the Armenian public broadcaster AMPTV confirmed that the singer representing Armenia this year would be internally chosen, but they would hold a national final to choose the best song, just as was the case in 2011. Since then, it spread the rumour that this year's Armenian representative would be a very familiar face and indeed the name of Sirusho (2008 Eurovision representative) was on all bets. She never denied it, and in fact, she was responsible for making her fans believe that it was true by doing "retweet" on her Twitter official profile to some of the comments related to her comeback. Finally, everything seems to have been a simple strategy to promote her new single, Pre-Gomesh which seems to be the second part of the story of her Eurovision entry Qélé Qélé.
Today, it has then been officially announced that the Armenian candidate is the lead singer of the rock band Dorians named Gor Sujyan. His unique voice has led him to become one of the most popular rock singers in Armenia. He comes from a family of musicians as his father is the well-known jazz musician and guitar player Mkrtich Sujyan. He has achieved great fame with his band not only in their home country, but also in other Eastern European countries and, a couple of years ago, he was awarded as the best Armenian male singer. He is not a newcomer at the Eurovision Song Contest either as he was one of the backing vocalists of Eva Rivas in 2010.
On the 2nd of March is scheduled to be held the national final show, which will be broadcast live on the first channel of the public television of Armenia where Gor Sujyan will be singing all the finalist songs and the final decision will be jointly taken by the audience through televoting and by an expert jury. The application period to send in songs ends on 20 February. All the songs that, of course, fit the rules of the Eurovision Song Contest can be emailed to [email protected].
You might also want to read:
Below you can listen to one of most successful songs of Dorians with Gor Sujyan as lead singer of the band.