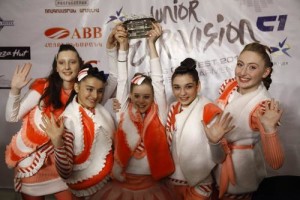 The Georgian act, Group Candy, winners of the 2011 Junior Eurovision Song Contest have released a new song and video with new singer, Lizi-Pop. The video has a festive feel. It is called Zgapari Qalaqshi. It is a song about a fairytale and Candy girls are dressed as Santa's helpers.
Zgapari Qalaqshi is a Georgian version of the 70s American group, Earth, Wind & Fire song, After The Love Has Gone.  The song has a fantasty and Christmas theme with Father Christmas making an appearance and lots of presents being opened.
Group Candy won the 2011 Junior Eurovision Song Contest with Candy Music and have since released a follow up single, Summer Day. The group are Ira Kovalenko, Mariam Gvaladze, Iri Khechanovi, Ana Khanchalyan and Gvantsa Saneblidze.
Group Candy and Lizi-Pop are part of the Bzikebi Studio creative project masterminded by Giga Kukhianidze. Also involved are Roma Giorgadze, Sofi Oyreshidze, Markasssi Kurdubadze, Ben Qadagidze, Maia Gabrichidze, Lasha Kebadze, Tako Xitarishvili, David Vashakidze and Nino Pircxalava.
We can expect even more big projects from the team in 2013.
You can see the video for Zgapari Qalaqshi below.

You may also like to read: