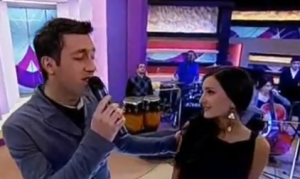 As 2012 closes, Georgia becomes the latest country to announce its plans for the 2013 Eurovision Song Contest in Malmö.  Sopho Gelovani will represent her country along with Nodiko Tatishvili.
Georgian broadcaster has revealed that yet another Sopho – this time young singer Sopho Gelovani – will be carrying the hopes of her country in Sweden in May.  She will be duetting with Nodiko Tatishvili.
Nodiko was born in 1986 and made his first appearance in stage at the age of six at the Tbilisi Grand Concert Hall.  He won his first competition aged eight.  In 2009, he participated in won Geostar, the Georgian equivalent of Pop Idol.  Over the years, he has appeared in music festivals in Lithuania, Kazakhstan, Malaysia, Belarus and Moldova. 
Georgia's song will be chosen internally, and more details will be announced in the coming months.
Georgia debuted in the 2007 Eurovision Song Contest in Helsinki, with the song Visionary Dream sung by Sopho (Khalvashi), finished 12th in the Saturday night final.  The country's best finishing position has been 9th (Shine by Sopho Nizharadze and One more day by Eldrine) in 2010 and 2011.

You may also be interested in reading these articles: