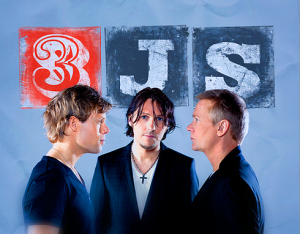 Dutch trio 3JS announced through their official website the release of a compilation album entitled Tot Zoverder…Het Beste van 3JS on the 25th of January, coinciding with their Bronnen theatre tour which is due to get underway on the 10th of January.
Eurovisionary reported on the announcement of dates an venues for the up and coming Bronnen tour a few months ago. The theatre tour is set to start on the 10th of January in Beverwijk, running all the way through until the 16th of April, when they play their final gig in Gouda.
In conjunction with their tour, 3JS are also to release a greatest hits compilation of sorts, a retrospective on the last six years of their successful career, combining both old and new material. The group are known for being very approachable to their fans and in true 3JS spirit, fans were asked to send in suggestions with their favourite songs as means of determining the track listing for the album, which is confirmed to be a double CD release. The first CD features 20 of the group's most popular hits, with the second bonus CD featuring three new singles, including their newest release, Bijzonder (Special) alongside highlights from their upcoming Bronnen tour. These are the songs that are confirmed for the first CD:
Watermensen (Water people)
Hou Van Mij (Love Me)
Geloven In Het Leven (Believe in Life)
Geef Mij Een Naam (Give Me a Name, duet with Elske DeWall)
Je Vecht Nooit Alleen (You'll Never Fight Alone)
Wiegelied (Lullaby)
Eén Met De Bomen (At One With the Trees)
De Stroom (The Power)
Laatste Dag (The Last Day)
Wat Is Dromen (What are Dreams, duet with Ellen ten Damme)
Bevlogen Als Vogels (Inspired like Birds)
Bij Hoog En Laag (High and Low)
Godvergeten (Ungodly)
Loop Met Me Over Zee (Walk With Me Across the Water)
Kamers Van M'n Hart (Rooms of my Heart)
Jij Lacht (En De Schaduw Verdwijnt) (You Laugh (And the Shadows Disappear))
Toen Ik Jou Vergat (When I Forgot You)
Net Alsof (Just Like)
Koud En Mistig (Cold and Misty)
De Weg (The Road)
3JS achieved the unique feat of topping the Dutch charts with two different versions of their 2011 entry, Never Alone. The first chart topper was the Dutch language version, Je Vecht Nooit Alleen, which was followed by its English language version a few weeks later. Tickets for the upcoming tour can be purchased through the Nationale Theaterkassa website. Rest assured, Eurovisionary will bring you a review of the album shortly after its release.
You might also want to read: