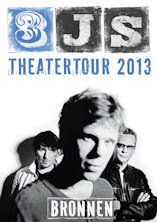 Dutch music stalwarts 3JS have finally decided to release the concert they held at the open air theatre Caprera Bloemendaal this summer on DVD. The trio have also announced a comprehensive theatre tour kicking off on the 10th of January. In other words, fans of their own particular brand of pop rock have a lot to look forward to these coming months.
One of the highlights for many Dutch fans this summer was the concert given by the trio the 3JS on the 29th of June at the open air Caprera Bloemendaal. Patience of their loyal followers has been rewarded, with this, their third DVD release. Following a hectic summer of promotion, Jan, Jaap and Jaap have finally had the time to prepare the recorded material for release. The DVD is to ben given the rather original title of Wat een avond…live in Caprera and is due for release on the 12th of October.
Their latest DVD release ties in with a brand new single which the trio have out at the moment, the duet with singer Elske DeWall entitled Geef Mij Een Naam (Give Me a Name). The single is to be promoted on both Dutch and Belgian radio, according to the trio's official website, with promotion starting this Friday with an appearance on the popular Dutch TV show De Wereld Draait Door.
The popular threesome will also be embarking on a lengthy nationwide tour, opening with their first concert on the 10th of January in Beverwijk and winding up in Gouda on the 16th of April. 3JS will for the third time be visiting theatres around the country, which in both 2009 and 2010 proved to be an immense success. Tickets for their Bronnen (Sources) tour are already available for the majority of venues online through the Nationale Theaterkassa website. The dates for the Bronnen tour are given below:
Jan. 10 Beverwijk     
Jan. 15 Hoofddorp     
Jan. 16 Amersfoort     
Feb. 02 Uden     
Feb. 05 Alkmaar     
Feb. 06 Almelo     
Feb. 07 Zaandam
Feb. 13 Zeist
Feb. 14 Groningen     
Feb. 17 Amsterdam     
Feb. 20 Roosendaal     
Feb. 22 Rotterdam     
Feb. 27 Vlaardingen     
Feb. 28 Veghel     
Mar. 01 Terneuzen     
Mar. 05 Stadskanaal     
Mar. 06 Delfzijl     
Mar. 07 Breda     
Mar. 15 Tilburg     
Mar. 19 Oss     
Mar. 20 Emmen     
Mar. 21 Steenwijk     
Mar. 27 Hoorn     
Mar. 28 Hoorn     
Apr. 02 Purmerend     
Apr. 03 Almere
Apr. 04 Cuijk     
Apr. 07 Den Bosch     
Apr. 10 Eindhoven     
Apr. 11 Den Haag     
Apr. 16 Gouda     
Until their DVD comes out, enjoy their performance with Elske DeWall at the Caprera Bloemendaal. Wat enn avond, indeed!