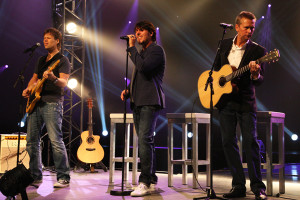 3JS, the trio that represented the Netherlands at the 2011 Eurovision Song Contest and failed to live up to the Dutch expectations have just released a new single titled Voor Eens En Altijd. A freshly recorded live concert DVD will hit the stores later this year. 
The titled of the new single from 3JS Voor Eens En Altijd translates to For Once And For All, but it won't be the last from the trio that didn't manage to qualify for the final of the Eurovision Song Contest in 2010 with the song Never Alone. Later this year a DVD containing a live concert from Bloemendaal last Friday will be released. 
The band that consist of the three J's Jan Dulles, Jaap Kwakman and Jaap de Witte have released a total of four albums with three of them selling to gold status. 
Below you can hear their new single plus see their performance at the Eurovision Song Contest: