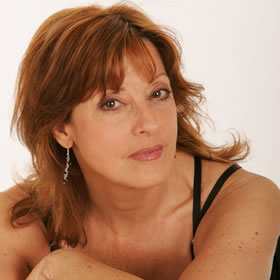 Liliane Saint-Pierre already had a well established career when participating on home soil for Belgium in 1987 with Soldiers of Love. Her entry was surprisingly enough not a hit the first time around, but experienced something of a renaissance on various Belgian charts this autumn. Saint-Pierre will be giving a rather unique concert this coming January.
Following her appearance and a respectable 11th placing with Soldiers of Love in 1987, Liliane Saint-Pierre's career hit something of a slump. She managed quite the comeback in the mid nineties with a Flemish cover version of Dusty Springfield's In Private, reaching the upper regions of the Flemish charts, but after releasing a few albums from the mid to late ninetees, her career dipped again. Many artists experience wavering popularity during the course of their careers, and Saint-Pierre is no exception.
Ms. Saint-Pierre's fortunes seemed to be on the turn once more in late 2011, when she managed to score a moderate hit with Bang Voor De Zomer (Scared of Summer), but this breathed new life into her career, with her former Eurovision entry being dusted down and re-released, also going on to become a hit earlier this year. She has since then scored a minor hit this autumn with Met Je Ogen Dicht (With Your Eyes Closed). With this new found interest in her career, Saint-Pierre is seizing the opportunity to join forces with two colleagues from the showbiz industry, Flemish actor and TV personality Hubert Damen and Flemish singer Della Bossiers. The threesome will give a rather unique one-off performance at a charity event in Sint-Truiden on the 13th of January at the C.C. De Bogaard venue, in aid of the Jan Degraen fund, which helps those with leukaemia.
During the concert, which has been given the name Van de grachten naar de Seine (From the canals to the Seine) the talented trio will treat all present at the benefit to their interpretations of songs by artists from both the Benelux countries and France, artists that are sadly no longer with us. Their subject matter also has Eurovision connections, with Connie Vandenbos (who represented the Netherlands in 1965 with 't is Genoeg), Ann Christy (who sang in the national finals of 1970 and 1971, and went on to represent Belgium in 1975 with Gelukkig Zijn) as well as Yasmine, who was apart from being a jury member in the Belgian national final in 2006, also announced the Belgian votes at the Eurovision Song Contest in 2006.
Tickets for the event cost € 20 and can be ordered through the de Bogaard website.
You might also like to read: