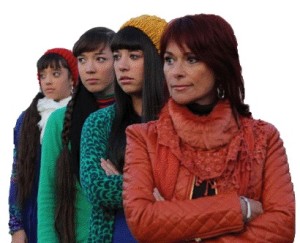 This autumn Lisa del Bo and Femke have recorded a very beautiful single and it is nothing less than the Dutch version of Je L'aime A Mourir by Francis Cabrel entitled Hoe Moet Ik Verder? Through the eyes of three teenagers or a grown up woman, love is always seen differently, beautiful though.
Lisa del Bo represented Belgium at the 1996 Eurovision Song Contest with Liefde Is Een Kaartspel and Femke also did it last year at the Junior Eurovision Song Contest singing Een Kusje Meer. But, who are The Big Sisters? They are Ymke and Anke, Femke's sisters. One of them, Ymke, became second in the Belgian Nation Preselection of Junior Eurovision in 2010 with the song Vive La Fête.
After Lisa's latest single Hemelhoog, that was released this summer and was located several weeks on the second place in the Flemish top ten, she wanted to do something special for the end of the year and here we have it. This is not a traditional Christmas song, but it is a song with some melancholy, very appropriate in this time of the year when people use to think a little deeper about things.
For this single they have chosen the beautiful song Je L'aime A Mourir by Francis Cabrel in its Duch version entitled Hoe Moet Ik Verder? (How Should I Continue?). The lyrics, written by Cliff Vrancken, tell us about the grief you have after a broken relationship. It's a grief that everyone can feel, no matter how old you are.
Below you can watch the official video clip of Hoe Moet Ik Verder? featuring Lisa del Bo, Femke & The Big Sisters.