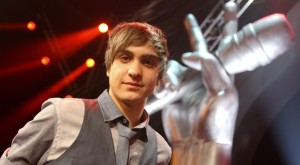 For the second time in a row Belgium has chosen their representative for the Eurovision Song Contest internally. Today the TV channel RTBF announced that Roberto Bellarosa, winner of the casting show The Voice will represent the country in Malmö. More details about the song selection will be revealed on November 20th.
The 18-year-old singer Roberto Bellarosa will represent Belgium at the Eurovision Song Contest 2013 in Malmö. That was announced by the Belgian TV channel RTBF today. Roberto Bellarosa who has Italian roots is from the French speaking part of Belgium and has just published his first album Ma voie (My way) including the single Je crois (I believe). He won the first edition of the Belgian casting show The Voice where he convinced the audience with his voice and his self-confident performances.
On November 20th RTBF will hold a press conference where more details about the song selection will be given. According to RTBF the TV spectators will be involved to choose the Belgian entry for Malmö.
Last year Belgium was represented by the young singer Iris with the song Would you. Iris failed to qualify for the final finishing on 17th position in the first semifinal with 16 points. The last time Belgium reached a Eurovision final was in 2010 when Tom Dice represented the country singing Me and my guitar.