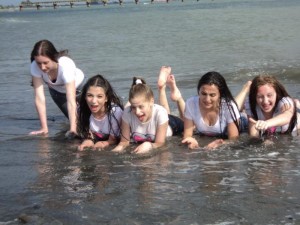 Group Candy from Georgia have released a brand new song and video to follow their success at the 2011 Junior Eurovision Song Contest. The new track is called Summer Day.
The five piece all girl group, Candy, won the 2011 Junior Eurovision for Georgia in Yerevan, Armenia. The group are Ira Kovalenko, Mariam Gvaladze, Iri Khechanovi, Ana Khanchalyan and Gvantsa Saneblidze.
Now they release their follow up song.  The single is called Summer Day and the girls have made a promotional video for the track.  The song and video have a real summer vibe with a retro disco feel.
Group Candy are part of the Bzikebi Studio projects in Georgia who have had previous success with Bzikebi (the 2008 Junior Eurovision winners) and Mariam Kakhelishvili who finished second at the 2010 Junior Eurovision in Minsk, Belarus.