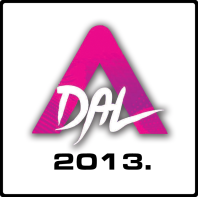 The end of the Hungarian route to Malmö comes one step closer this weekend, with the two semifinal shows in A Dal 2013. Eighteen qualifying acts from the previous three heats will be given another shot at securing a place in the final. With the help of this article, we invite you take a closer look at the participants and their songs.
This year in Hungary, the public broadcaster decided to hold a lengthy
national selection, comprising six shows in total, from first heat till the final.
We started out with thirty participants performing in three shows (ten participants per show), with six acts advancing from each show to the semifinal heats. All qualifiers were selected by means of a combination of jury and televoting.
The penultimate phase of A Dal will take place this weekend with the two semifinal
shows. A total of eighteen acts wil be perfoming in the two shows. (You can hear the songs by clicking on the
song titles below):
1st Semi-Final (Saturday)
Song # 1: Laura
Cserepes – Élj pont úgy
( L & M:  Krajczár Péter, Kolozsvári Tamás and Tabár István)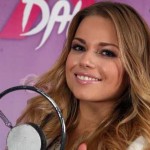 24 year old Laura found fame through the silver screen, landing the leading role in the movie, Véletlenül Szándékos. Later in 2009, Laura decided to broaden her horizons and try her hand as a perfomer, following her participation in the Idol reality talent series. Her first album appeared in 2010. She returned to screens in 2011, when she starred in a TV-series.
The anthemic ballad Élj pont úgy, which qualified to the semifinal after receiving the most points from jury, will be the opener of the 1st semifinal on Saturday. The title of the song translates as "Live Just Like That."
Song # 2: Tibor Gyurcsík – Öröc Harc ( L & M: Vödrös Márton, Molnár Tamás and Geszti Péter)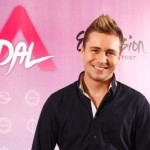 26
years old Tibor was born into a musical family, encouraged to take part from an early age. He worked with a well known jazz singer in Slovakia,
Peter Lipa. Tibor's career received a major boost following his appearance on the X Factor series in
2010.
Last year, Tibor participated in A Dal and managed to reach the final, but his passion lost out to Compact Disco's Sound Of Our Hearts. This year he will be giving it
another try with the song Öröc Harc which means "Constant Struggle". This electro rock song qualified to the semifinal as the
televoters choice in the first heat.
Song # 3: András Kállay-Saunders – My Baby ( L & M: András Kállay-Saunders)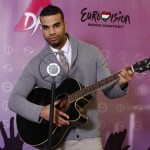 The next artist's last name may tell you something about his background; 28 years
old András was born in the United States to a Hungarian mother. While
visiting his parents in Hungary, he decided to take part in a talent show,
Megazstar in 2010 and found himself soaring into the top five. A year later, and
András released two songs in English, Fly and I Love You, with the song I Love You also participating in the semifinal of A Dal in 2011.
My Baby was released in the Christmas period last year and has already
gained great popularity among his fans before it was aired in A Dal. His is one of the few
self-produced acts in the semifinal of A Dal 2013, and qualified from the second heat as the jury choice.
Song # 4: Ildikó Keresztes – Nem Akarok
Többé Játszani ( L & M: Leander Köteles)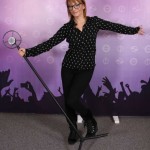 Ildikó is a stalwart of the Hungarian music scene, with a career going back to the late 80s, and huge fame in
Hungary. Each rocker girl act in Hungary will probably be
cite her as their inspiration, as she contributed to more than fifty albums
and half of them achieving either golden or platinum status. Ildikó Keresztes
has released five studio albums in total. During the course of her career, Ildikó came runner
up at the Interpop Festiva,l and she has also featured as a jury member and also mentor of
the Hungarian X Factor since 2010.
The song Nem Akarok Többé Játszani starts with a soft piano, developing into a rock song slightly reminiscent of Kailopi's Crno i Belo, but still maintaining its own uniqueness. The song title roughtly translates as I Don't Want To Play Anymore and qualified to the semifinal stage after gaining the second highest number of points from the juries. 
Song # 5: Odett – Engedj El ( L & M: Kovács
Gergővel, Takács Zoltánnal and Fátyol Kamillával)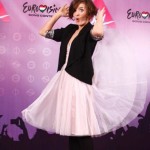 18 year old
Polgár Odett initially intended to become a succesfull fashion designer but her career was took a slightly different direction, namely into music after her participation in the Hungarian
Megazstar. She founded the Odett trio together with Varga Zsuzsa and Takáts Eszter, and
they released their debut album in 2008. The trio split up 2010 but it
was at that point that Polgár met with Takács Zoltánnal, who is also one of the
producers of her A Dal 2013 song. They worked on Polgár's debut solo album which was released in 2012.
Odett managed to break onto the Hungarian MTV charts with the song Fantom last
autumn, encouraging her to give it a go in the Hungarian national selection with
the song Engedj El which means Don't Let Me Go. She's hoping to match the success she had in the second heat of A Dal, but it will by no means be easy.
Song # 6: Gáspár Lacy & Plastikhead – A Szeretet Él ( L & M: Tóth Zoltánnal, Gáspár Laci and Orbán Tamás)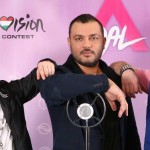 Gáspár Lacy enjoys great popularity in the media, not only as a singer, but also as an actor. He rose to fame in 2004, after winning the best male voice in a talent contest, with his fame gradually spreading to neighbouring countries. Plastikhead is a band that was found by two brothers, Tóth and Vékony Zoltánnal who are both disc jockeys.
The trio will perform A Szeretet Él meaning Love Lives On after qualifying from their semi final with the second highest number of points. This catchy song begins with a keyboard intro which soon gives way to electronic melodies.
Song # 7: Lilla Polyak – Valami Más ( L & M: Bella Máté, Szente Vajk and Galambos Attila)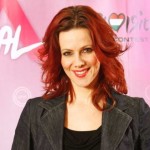 Veteran singer Lilla Polyak began her career when she was very young after finishing her studies at the Theatre and Movie Academy in Budapest. She then began a tenure at the National Theatre in Györ, where was born. Immense success in Györ opened a lot of doors – including a role in Mozart's opera, Romeo & Juliet in Vienna – further developing herself as a performer. She built on her success by releasing a number of albums.
Lilla Polyak will be able to showcase her strong vocal talent in an up-tempo pop song titled Valami Más, meaning Something Else. She will have to pull out all the stops to get a ticket for the final, qualifying to the semifinals as only the third jury favourite.
Song # 8: Peti Puskás – Amíg A Tűz Ég ( L & M: Csöndör László Diaz, Düki and Puskás Péter)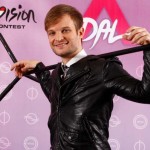 Multi talented Peti (Péter) is not only a singer, but also an actor who is very popular in his native Hungary. 28 years old Peti's life changed drastically, when he followed the advice of family memebers and entered the reality talent series Idol in 2006. Movie success translated into musical success with a string of successful album releases.
Peti's idol is Freddie Mercury and his song Amíg a Tűz Ég is a rock song translating into As Long as The Fire Burns. It is qualified to the semi final stages with the second highest number of points from televoters.
Song # 9: Gergő Rácz – Csak Állj Mellém ( L & M: Péter Geszti
& Gergő Rácz)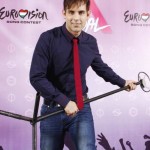 This year won't be the first
participation of Gergő Rácz. He makes a reappearance, sixteen years after he first represented his country at the 1997 contest in Dublin, as a member of the
group V.I.P resulting in a twelfth place. The group released five
albums up until their disbandment in 2001. Gergő continued his career with the
band Fool Moon, but then he decided to continue as a soloist.
The number Csak Állj Mellém means Just Stand by Me. It is a
mid-tempo pop song which he composed  himself. He certainly grabbed the jury's attention, with his name being the last to emerge from its envelope as the third best act in its heat.
2nd Semi-Final (Sunday)
Song # 1: Szilvia Agárdi & Dénes Pál – Szíveddel
Láss ( L & M: Szabó Zé and Tamás Molnár)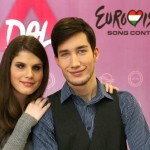 Two
younger talents in the A Dal 2013 will open the second semi-final. 17 year old Szilvia and 21 year old Dénes,
shone in the music industry for the first time after participating in the talent show The Voice this year. They are being described as new Kylie Minogue and Nick Cave as a result of their interpretation of Where The Wild Roses Grow with their video getting hundreds of thousands of hits on Youtube. Although Szilvia made a swift exit from the talent show, Dénes went on to win the competititon in January,
and they decided to continue together as a duo.
Two strong voices will bring us a great symphony with the song Szíveddel
Láss. This powerful romantic ballad has advanced to the semifinal by
earning the most points from the jury in the first heat, and  they will
undoubtedly try and aim for the same result in their semifinal this weekend. But, before seeing
Szilvia's semi final performance, we should remember that her disability can't
stop the passion of her music. She is visually impaired, which will probably become evident at some point in the performance. The title of the song translates as See With Your Heart. 
Song # 2: Gergő Baricz – Húz ( L & M: by Gergő Baricz)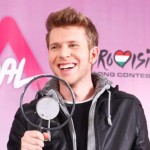 Gergő Baricz is an avid Elvis fan, who also drwas on his idol in his own musical career. 22
years old Gergő might just be at the starting point of his career,
but he has already experimented with various styles of music.
He tried metal, rock and even street music and has also participated in talent contests as have many others in this competition.
The song Húz was presented in an acoustic solo concert at the Hungarian
radio channel Petőfi Rádió for the very first time. It offers an attractive mix of a good performance and a good Latino melody, proving to be a great hit in the first semi. The title of the song means Pull. 
Song # 3: Tamás Palcsó – Ezt Látnod Kell ( L & M: Tamás Palcsó
& István Tabár)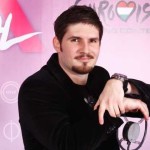 26 years old Tamás is one of the least experienced contenders in A
Dal 2013, as he is educated as an aircraft technician. During his
student years he entered the Megazstar contest, ending up in 2nd place which later kicked off his musical career. In 2006, he also tried his luck in the fim world
when he starred in a musical movie. He then finally graduated as an economist.
The song Ezt Látnod Kell which means You Gotta See This
qualified to the semi final as one of the televoters' choice from the first heat. 
Song # 4: Tamás Vastag – Holnaptól ( L & M: Szabó Zé and Szente
Vajk)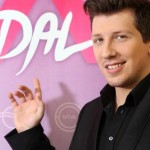 Tamás' stated that  'Being a good singer is in the genes,' and he could well be right, as Tamás isn't the only musician in the family. He is
known for a duet with his own sister in Hungarian X-Factor 2010. The duo
then released a video to the song Őrizd Az Álmod attracting massive attention on the internet.
It was 21 year old Tamás' own decision to take part in A Dal 2013. Hoping for a bright  future, the song Holnaptól means From Tomorrow. Because this ballad qualified to the semifinal as the televoters
first choice, he could be a major contender for the final if everything goes his way this weekend.
Song # 5: Bye Alex – Kedvesem ( L & M: Marta Alex – remixed by "Zoohacker")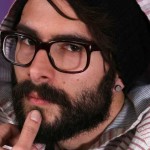 Singing has always been a popular form of entertainment for the most of us, and Bye Alex is no exception. He started to sing when he was 11, showing great promise in his career. But he fell fowl of some people, who accused him of being to arrogant and cocky. He finally had the last laugh, enjoying a country hit Csokolom.
Despite previous accusations, Bye Alex decided to take part in the Hungarian selections with the song Kedvesem, which means My Dear. His performance managed to get the third best result in second heat, giving him another chance in the second semi-final.
Song # 6:  Veca Janicsák – Új Generáció ( L & M: Veronica Janicsák)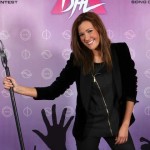 Known world wide, veteran of the selections Veca (Veronica), has a quite the pedigree which began when she was 15 when she won the Sziget festival. Her first album was released when she was 18 and Veca reached sold albums by the shed load. She started a World Tour in 2011 which was followed by her winning the GLAMOUR Woman of the Year award.
Veca will sing Új Generáció which qualified effortlessly to the semi final, gaining the most points from televoters in the second heat. Veca promises another good stage performance with strong vocals. The title of her song means New Generation.
Song # 7: Gigi Radics – Úgy Fáj ( L & M: Huba Kelemen, Jack D. Elliot and Jánosi)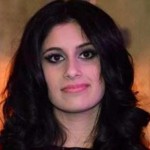 16 year old Gigi has taken a coniderable step on the musical career ladder by winning the Megazstar contest last year and she was subsequently discovered by music pioneer Quicy Jones at the Montreux Jazz Festival. Her first album was released in November, quicky topping the iTunes chart.
The lovely ballad from Gigi, Úgy Fáj, qualified to the semi final from third heat as a jury favourite. The title of the song means Hurts So Much.
Song # 8: Fatima Mohamed – Nem Baj ( L & M: Fatima Mohamed, Tibor Féher and Laci Nagy)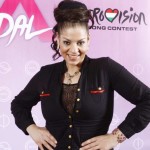 31 year old Fatima started her career in the 90's as the founder of the hip-hop group Fekete Vonat. The group split in 2004 after releasing four succesful albums. Fatima then moved to London. She revived her career from there after participating in The Voice and decided to try her luck in A Dal 2013.
The song Nem Baj has a clubby feel and qualified from third heat. Regardless of whether or not the song wins, it will feature on Fatima's upcoming solo album. Nem Baj means No Problem.
Song # 9: United – Tegnap Még Más Voltá ( L & M: Pély Barna, Romhányi Áron and Mits Gergely)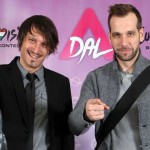 United was founded in 1999 as an Acid Band and they released their first album with the contribution of Orbán Tamás. They won several awards following their album release in 2000, Nincs ősz, nincs tél – providing three hit singles. The group released four more albums between 2001 and 2008.
The four strong band will celebrate its 14th anniversary on stage with the song Tegnap Még Más Voltá meaning You Were Different Yesterday.
The first semi-final will be aired on Saturday and the second semifinal on Sunday. Both shows will start at 20.15 CET in Budapest and will be broadcast on M1 and Duna World. 
Hungary at the Eurovision Song Contest:
This small country at the heart of Europe first joined the family of Eurovision in 1993. However their first representative, Andrea Szulák couldn't quite make Hungarian dreams come true, failing to qualify that Easter for the Eurovision Final. The following year however, saw Friderika debut for Hungary in the Eurovision Song Contest – with their best result to date, placing a respectable 4th with the song Kinek Mondjam El Vétkeimet?. Unfortunately, the Hungarian broadcaster wasn't encouraged by her success and decided to withdraw from 1998 until 2005. In 2007, Magdi Rúzsa was the Hungarian entrant that won so many hearts in Helsinki where belted out her song, Unsubstantial Blues, managed to achieve Hungary's personal best in a semifinal (coming second), and also their second best final result to date, coming ninth. Hungary has managed to qualify to the finals the last two years, but have ended up around the bottom of the scoreboar. Last year, Compact Disco represented the Magyars in Baku, qualifying convincingly to the final and finishing 24th out of 26 acts on the night.
You might also want to read: