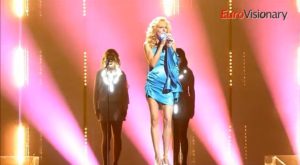 Hungary returned to the Eurovision Song Contest in 2011, having sat out the previous year, supposedly due to poor results from the previous years. They hoped to do better with Kati Wolf.
On 7 March 2011, Hungarian Television (MTV) announced that they had internally selected Kati Wolf to represent them in Dusseldorf, Germany.
Kati was chosen to sing What About My Dreams, written by two members of V.I.P (Hungary 1997) and arrived at the contest as one of the favourites.
Ultimately she performed in semi final one on 10 May 2011, coming 7th, which sent her to the 14 May final.
Here, performing 5th she received 53 points, including top marks from Finland, ending up placing 22nd out of 25 countries.
What About My Dreams – opinions from fans
In order to find out what Eurovision fans today think of this Hungarian entry from 2011,  we asked our Eurovision Fan Panel. It includes team members as well as fans from all over the world.
Michael O. – Well talk about one of the worst ever transformations from the recorded version to the performance on stage. This is a terrific pop song, ruined by the terrible staging, awful costume and underwhelming vocals on the night. What a let down as it was easily my tip to win before the contest.
Wouter V. – From the moment Hungary announced What About My Dreams as their bid for the 2011 contest, I've been repelled by it. There is literally nothing about this song I like. Apart from that it has turned into a bit of an inside joke among some friends to ask "but what about my dreams?", strongly emphasising "my" here. The song has one thing going for it: it's rather memorable.
Enio P. – Kati Wolf and What about my dreams is one of my favorite entries ever from Hungary. The dance track has a catchy beat and it instantly makes me wanna dance! Kati has a great stage presence and her outfit was stunning. Too bad for the low classification it had in the Big Final. It deserved better!
 Frank S. – I think this could have been quite successful, however, Kati Wolf didn't perform very well vocally this time and I was surprised about her being so static on stage…Despite that I live this song over the speakers in a club to dance the night away! Nothing more, nothing less.
Josef S. – Kati Wolf is one of my favourites from 2011. Her dance song What About my Dreams is very catchy and well sung, plus the combination of Hungarian and English is interesting. Oh and thoses blue dresses are amazing.
Charlotte J. – I never understood why Kati Wolf was somewhat of a fan-favourite in 2011. The song never appealed to me. Listening to it again, I understand why I didn't like it back then and still don't. It's too plastic for me. It appears like she is trying too much to do what she thinks Eurovision fans want to see, and it comes across as fake to me. Vocally, she is not impressing me either. Sorry Hungary.
Alvaro S. – This song is a fan favourite for a good reason. This is the type of song I could imagine competing in 2021. In a very competitive year as 2011, this is one the songs many fans still remember. Criminally underrated.
Kati Wolf – a brief biography
Kati was born in Szentendre, Hungary on 24 September 1974. In Hungary her proper name is Wolf Kati and she started performing as a child protege.
Kati reached the finals of X-Factor, Hungary in 2010. The following year she represented Hungary at Eurovision with an edited version of What About My Dreams. The following year she was part of the panel, who chose Hungary's 2012 entry, Sound Of Our Hearts by Compact Disco.
In 2015 she returned to A Dal, the contest Hungary uses to choose their Eurovision entry. This time she reached their final with the song, Ne engedj el, but she failed to win the chance to head back to Eurovision.
Kati has two children, a son, Peter, and a daughter, Zsuzsa.