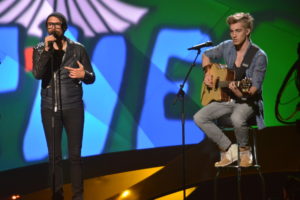 To many Eurovision fans, this was a surprise at the 2013 Eurovision Song Contest; to see ByeAlex qualify for the final. For others, 'Kedvesem' is very catchy, a song that entertains you. He finished 10th in the final, which was Hungary's best result in five years.

In 2013 Hungarian broadcaster MTVA used their traditional national selection A Dal to select their entry for Eurovision Song Contest. The selection consisted of three heats, two semi finals and the grand final. For the selection process, participants were allowed to use English lyrics but they were asked to have Hungarian lyrics ready. The submitted 244 entries were shortlisted to 30 entries by a pre selection jury with 30 members. Gergő Rácz (Hungary 1997) as a part of the band V.I.P. and András Kállay-Saunders (Hunhary 2014) were among the selected artists.
After three heats and two semi finals, 8 entries were given the ticket to the final which took place on the 2nd of March 2013. ByeAlex was the winner of the night with his mid tempo indie song Kedvesem.
In Malmö, Sweden, Hungary first competed in the second semi final. ByeAlex shared the stage with back vocalist Helga Wéber and guitarist Dániel Kővágó. They received 66 points and this gave them the right to compete in the final as they achieved an 8th place. On the final night, the trio again took the stage with colourful decoration and the positive song Kedvesem. This made them receive 84 points and a 10th place.
Kedvesem – opinions from fans
In order to find out what Eurovision fans today think of this Hungarian entry from 2013, we asked our Eurovision Fan Panel. It includes team members as well as fans from all over the world.
🇵🇹 Linete A. – Don't really like the song. It's very repetitive and I don't like the singers voice. The melody is actually quite nice and the staging is very minimal which maybe suits the song. Don't know how this got to the final!
🇬🇷 Kostas C. – A strange song. To be honest I didn't like it after winning the national final. I found it quite boring. But I gave it a second view after passing the semi final and I can understand the good result. In its simplicity and in the native language, with a cute singer and a sexy voice, this participation was unique enough to stand out.
🇩🇰 Charlotte C. – Sometimes you have songs which are both enjoyable and annoying at the same time. Hungary 2013 is one of them. I can't help finding it slightly annoying, but damn, I do enjoy it. It's extremely catchy – and all through the song, I sing along to it and keep snapping my fingers. This won my heart in 2013, and whenever I hear it again, I really enjoy it.
🇨🇴 🇫🇮 Alvaro S. – I remember these hipsters from the 2013 contest! I like how they get to bring the sweet message with the images they selected for the background even for those who did not check the lyrics. It was also very nice that they include a few words in Swedish in their live version of the song.
🇹🇷 Gunec G. – I must confess that I was surprised when I saw that this one got to final, and in a very negative way. But I think it's a grower. I love the charisma of the artists and I loved the colourful stage. And I find the song very soothing and calming.
🇷🇴 Doina A. – I just watched the video. A nice, touchy ballad, a nice, soft voice, the guitar sounds accompanying. Hhmmmm… nice, really nice! Love above all and ByeAlex sang in Hungarian as he always thought about the people that had voted for him. He was just like a "rising star": coming, singing this mellow song with his soft voice, a song which is worth listening to.
🇬🇧 Michael O. – I didn't like this before Eurovision day but in the end it was actually one of the better songs, where the entries all round were generally quite poor. However you can't go wrong with a bit of mish mash mosh.
🇵🇱 🇯🇪 Pawel J. – I must admit I don't really understand why so many people like the song. Judging by the reaction of the crowd in the arena many fans enjoyed it but even after being there in Malmö in 2013 I can hardly remember the performance. I guess for me it kind of disappeared amongst other better songs that year. How it came 10th on the night? I really don't know.
🇭🇺 Vangelis M. – Hungary back in 2009 was not as good as I wanted to remember. Especially after the homophobic comments Bye Alex made during the quarantine time some months ago. It's a flop song without beginning, middle and ending. Staging is as boring is Bye Alex  himself. During quarantine his TikTok videos were not getting a lot of viewers so he blamed the LGBT+ community saying that the "coming out" procedure is disgusting. The only disgusting in 2020 could be a person with this opinion. A HUGE NO from me .
Enjoy ByeAlex's performance from the 2013 Eurovision Song Contest in the embedded video. Below the video, you can read more about him.
ByeAlex – a mini biography
Alex Márta aka ByeAlex was born on the 6th of June 1984 in Kisvárda Hungary. He started singing at an early age. As well as his musical career, he is also a journalist and a novelist. He also has a masters degree in Philosophy.
His musical career started in 2012 with his first single Csókolom. He became famous when he participated in the Hungarian national selection A Dal in 2013 and won it with Kedvesem. With this song, he then finished 10th at the Eurovision Song Contest.
In 2018, he returned to A Dal with  H Y P N O T I Z E D which was written by him and performed by Roland Gulyás. He has released many singles and albums.