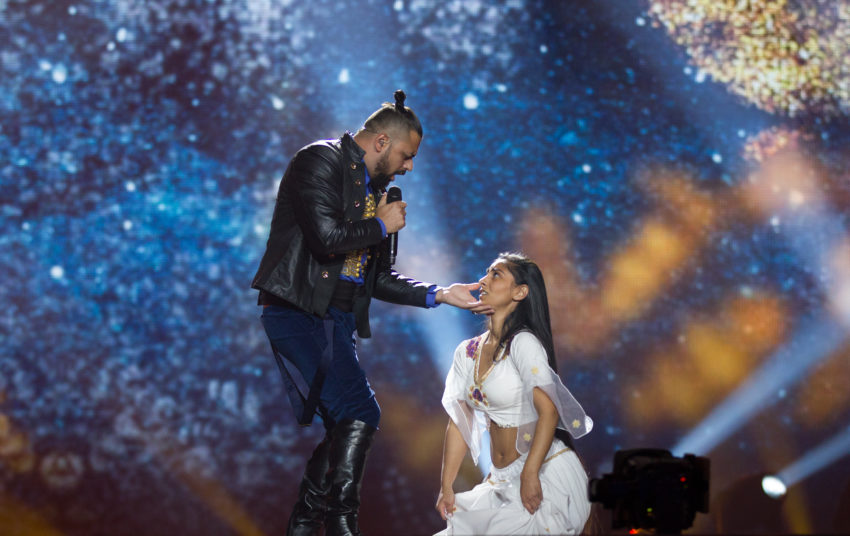 Hungary has participated in Eurovision Song Contest 17 times since their powerful debut in 1994. They have never tasted victory, but we saw many good entries from this country. One of their most successful once in recent years was the ethnic gypsy song with a touch of rap; Origo by Joci Pápai.
Hungary chose their entry for the 2017 Eurovision Song Contest 2017 through their traditional selection system A Dal for the sixth time. The show consisted of three heats, two semi-finals and a grand final. 18 entries had been selected for the two semi-finals. Eventually, 8 entries including Seventeen Kállay Saunders Band (band of András Kállay-Saunders Hungary 2014) qualified to go to the final which took place on the 18th of February 2017. The winner was determined in two rounds, and at the end of the night Origo by Joci Pápai was selected as the representative of Hungary in Eurovision Song Contest 2017.
In Kyiv, Ukraine Joci took the stage in the second semi-final 7th in line. After a touching and powerful performance accompanied by dancer Alexandra Virág, he received 231 points and placed 2nd thus qualified for the final. He showed the same good performance and at the end of the night received 200 points for his country and placed 8th.
Origo – opinions from fans
In order to find out what Eurovision fans today think of this Hungarian entry from 2017, we asked our Eurovision Fan Panel. It includes team members as well as fans from all over the world.
🇧🇷 Amir B. – One of my favourite artists of the Eurovision family. Origo is a beautiful entry! I love the mix of rap and ethnic elements. Hungary is one of my favourite countries in Eurovision and Origo is in my top 5 entries from the country. This song is perfect; the instrumentals, the vocals. Are all perfect. The choreography brings further a special element.
🇩🇰 Charlotte J. – I recognise and respect the talent, but this song has never really appealed to me. It's better than his other entry though, but still… there's not much for me to enjoy – besides the violin play.
🇹🇷 Gunec G. – This was one of the most powerful entries of Hungary. The gypsy dance, the atmosphere on stage really spiced up the song. It was good.
🇫🇮 🇨🇴 Alvaro S. – This is a great performance. Joci and his dancer's outfits, the dance and the instrumental parts appeal to the cultural background of the singer which brings an element that is always welcome in the festival. You actually don't need to understand Hungarian to feel captivated during the rapping part of the song. He is performing with passion and you notice that feeling. A very appealing song.
🇨🇿 Josef S. – I was never a fan of Joci Pápai, let's make this clear right from the beginning. But comparing Origo to his entry from 2019, Origo is better for sure. Well sung, with a strong ethnical influence and a great gypsy dancer on the stage, add the impressive LED floor, violin player, his matador-like costume and you have a perfect Eurovision performance. But it was not my favourite at all and I think it was (and is still) overrated. A lot.
🇬🇧 Michael O. – This was an OK enough entry and I daren't say what I think I hear him singing, however I was hit or miss whether it deserved to reach the final.
🇮🇪 Paul K. – This is a very good song. Originally, it was one that I didn't appreciate during the contest, but it definitely grew on me during the final. Joci was just phenomenal and that staging was amazing. This kind of entries is what keeps Eurovision so fresh and introduces people to different countries' music, which is what I'm here for. I hope Hungary return one day to give us an awesome entry like this one. But we shall wait for that day 🇭🇺.
🇺🇸 🇬🇧 Mhairi O. – This was definitely one of Hungary's best songs. Such a change for them. This is my favourite song that Joci has sent to the Eurovision Song Contest.
🇭🇺 Vangelis M. – Even though Papai Joci did really well in the contest. I really do not like the fact that the jury in A Dal 2017 did not let Tóth Gabi AKA TOTOVA to be voted by the audience. Also, it is really sad that in the jury there was one of Papai's best friends as it happens also in 2019. I cannot have a clear opinion about it. I preferred Hosszú idők that year.
Enjoy Joci Pápai's performance from the 2017 Eurovision Song Contest in the embedded video. Below the video, you can read more about him.
Joci Pápai – a mini biography
József "Joci" Pápai was born on the 22nd of September 1981. He is of Romani descent.
Twice has he represented Hungary at the Eurovision Song Contest. First time in 2017 with Origo and then again two years later with Az én apám. He was inspired by 1960s and 1970s music and is versatile as he masters rock, pop, soul, R&B and rap.
Ne nézz így rám is his first breakthrough single which placed 2nd in the Hungarian charts in 2010. His 2017 single Özönvíz topped the Hungarian charts. The two Eurovision entries Origo and Az én apám were also very appreciated by the Hungarian music lovers. His so far only studio album Vigaszdíj was released in August 2005.