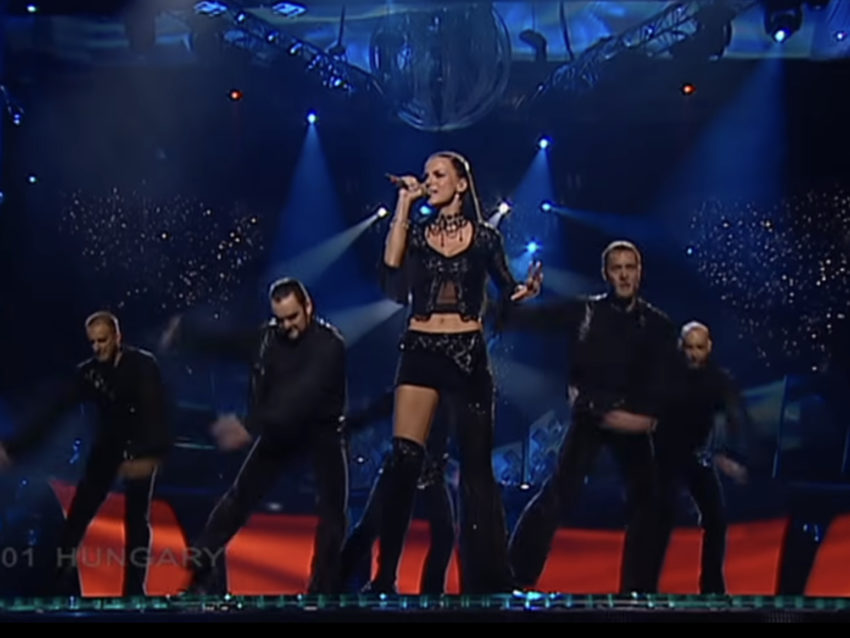 By 2005, it seemed that Hungary's Eurovision was in the past, as they hadn't participated since 1998. However, popular Hungarian duo, NOX saw them make a return this year.
On March 13, 2005, Hungarian Television (MVT) broadcast the Eurovíziós Dalfesztivál, comprising of 12 competing acts. Of the 12, the public voted for their favourite four, who proceeded to a super final.
NOX won the contest with the song Forogj, világ! (Spin, World), and headed to the Eurovision Semi Final 2005, held in Kyiv, performing in 15th position, placing 5th thus making the Grand Final.
The band opened the Eurovision 2005 final, on May 21, scoring points from 22 of the voting countries, with the highest marks being 10 from Poland. In the end, NOX finished in 12th place with 97 points.
Forogj, világ! – opinions from fans
In order to find out what Eurovision fans today think of this Hungarian entry from 2005, we asked our Eurovision Fan Panel. It includes team members as well as fans from all over the world.
Michael O. – I know there was a lot of dancing involved in this presentation, but take that away, and this is still a catchy listenable song. One of Hungary's best, and it still sounds good today.
Takko M. – The Hungarian entry of 2005 for me is one of the best entries participating in the Eurovision Song Contest. I think Hungary should have won back then since the entry was a clear "continue" of 2004 winning entry's. I love the rhythm and this dance leaves me speechless.
Liza P. – Forogj Világ is such a happy song. I simply love the energy in the flute and I can't help myself trying to dance an awkward form of Riverdancing whenever I hear it. It is my favourite Hungarian Eurovision entry. And it definitely deserved a spot in top 10 in the final. I would happily switch out Moldova or Switzerland for Hungary in a heartbeat.
Josef S. – This folky song is really good and keeps the essence of Hungarian music in its best form. The instrumentation, the dance, everything. I love this one!
Charlotte J. – What an opening! The music and the dance… I am captured right from the beginning. Unfortunately, it doesn't continue. The chorus is not strong enough to carry the song, I think. It comes across to me as they were trying to do a folk version of Ukraine's winning song from the year before; Wild Dances, and it's not working due to the weaker chorus. I do however love how they are only five dancers on stage, which fits the Eurovision rules, but the choreography cleverly makes it appear like they are more. As an old show dancer myself, this is something I notice and appreciate.
Paul G. – A brilliant come back entry for Hungary. Loved this from the first time I heard it.
Christos T. – A song that should have won a better place on the scoreboard. The combination of folk and pop music, the traditional Hungarian dance that was performed by the male ballet which surrounded the singer and the rare special meaning of the lyrics, related to the suicide, made this song very particular as a musical suggestion in Eurovision, very useful for the contest and its artistic frame.
Martti I. – Hungary sent NOX which had quite an energetic performance. The melody is familiar, easy to sing along to which is what good a good Eurovision song needs. I liked it then and just as much now, but one thing to point out is the pretty weak voice of the artist. Such a pity, or is it?
Michael R. – I've always loved this. It's undoing was it went first in year that was full of similar ethnic songs due to Ruslana's win the year before. It simply got left behind in many people's minds amongst the rest.
Enjoy NOX's performance from the 2005 Eurovision Song Contest in the embedded video. Below the video, you can read more about them.
NOX – a brief biography
This Hungarian band has at times been a trio or a duo. The permanent members were Szilvia Péter Szabó, born 9 September 1982 and Tamás Nagy, born in 1975, but Zoltán Szűcs has also been a member.
They made their debut in 2002 with the album, Örökség, as a duo which featured 12 tracks. After releasing a follow up and a Christmas album, it was their fourth release, Ragyogás, which featured their 2005 Eurovision entry, Forogj Világ!.
The band went on to have further success in Hungary after Eurovision, and went on to release four more albums, before splitting in 2010. A greatest hits was released to celebrate the groups, eight year career.
After the group split, Szilvia went on to have a solo career, releasing two albums, Revolution and Ébredő.