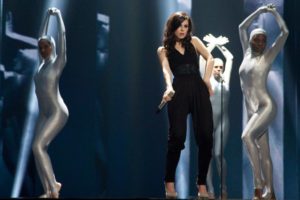 One year after giving Germany their second victory in Eurovision, Lena returned to the contest. This time she brought her song "Taken By A Stranger", a song with a slightly different tone than her winning song. When discussing one of the songs, it's impossible not to compare to the other one.

Back in 2010 Lena gave Germany their second victory on the Eurovision Song Contest after 28 years. In fact, at the winner's press conference it was announced that Lena would be internally selected. This news was later confirmed by German public broadcaster NDR. Lena is not the only artist that has returned to Eurovision after their victory achieving various degrees of success (or failure). To this date, only Irish Johnny Logan has managed to return to the Eurovision Song Contest and win again.
Unser Song für Deutschland took place to select Lena's song. Lena performed twelve songs in two semi-finals which were shortened to six. For the final, two voting rounds took place. Two songs eventually made it to the final cut: Push Forward and Taken By A Stranger. Taken By A Stranger won the national final with 79% of the televote.
As the host country and also a member of the Big 5, Germany was automatically qualified to the final. Lena and her Taken By A Stranger received 107 points and finished in 10th place. Germany received points from 20 countries with a maximum of 10 points coming from Austria.
Taken By A Stranger – opinions from fans
In order to find out what Eurovision fans today think of this German entry from 2011, we asked our Eurovision Fan Panel. It includes team members as well as fans from all over the world.
🇩🇰 Charlotte J. – I wasn't too much a fan of her 2010 winning entry, and her song in 2011 didn't do much for me either. Where Satellite at least had its charm, Taken By A Stranger doesn't have that. It's fine background music, but never do I feel like paying attention to what's going on in the performance. 2011 was a weird year. Azerbaijan shouldn't have won in my opinion, countries like f.ex Bulgaria, Netherlands and Poland should have reached the final – and Germany shouldn't have finished in top 10.
🇸🇪 Sara T. – I was so excited when I learned that Germany was going to send Lena to Eurovision again in 2011, and even more excited when I heard Taken by a stranger. It was a very clever move to choose a song that was unique enough to not make Lena seem like a one trick pony, but still popular enough to earn them another top ten position. Taken By A Stranger is a cool, minimalistic and exhilarating song that feels like a new song every time I hear it. 12 points!
🇳🇱 Jacques H. – I wasn't a fan of Lena's Satellite to begin with, but Taken By A Stranger is really dreadful. I had totally forgotten how the song sounded, and I actually spent two weeks in Düsseldorf at the Contest that year. I had to play the song again and didn't remember one thing about it, apart from her not so pleasant voice and pronunciation of the English language. As an overrated singer you have really sung a terrible song, when people have actually already forgotten what you once sang. And that is unfortunately also part of Eurovision. Most winners win to end up in oblivion, few are given to transcend the Contest…
🇩🇪 Andrew G. – I love Lena. And I love Taken by a stranger. This was my favourite from the preliminary show Unser Song für Deutschland. Sticking to the same beat the whole 3 minutes is a bold decision and for me, it works. What I did not like was the staging. In the winning year we got a carefree girl and a year later she supposed to be taken by a stranger. Never made any sense. And looking back I wished Lena had said no to returning a year after winning. It's a top 5 song. And then it just got into the top 10. With a lot of fan love.
🇨🇴 🇫🇮 Álvaro S. – I like Lena's winning song better than her 2011 song. I feel that what makes Satellite special is how spontaneous she looks. In this one, it feels more obscure. It is not bad, and I think it deserved a top 10, but my heart is closer to her winning song. This one is more mature, but that does not automatically make it better.
🇺🇸 🇬🇧 Mhairi O. – I like this a lot more than Satellite. Though in my opinion, 2011 was a strong year, so I didn't see this as a winner, but it's still great.
🇦🇺 Craig M. – I am one those people who love Lena's 2011 song more than her winning song in 2010. Taken By A Stranger still sounds good today, 10 years later, and it was a well produced and well written song. It deserved it's top 10 finish in 2011.
🇬🇧 Michael O. – there was a better song in the preselection than this, so good I've forgotten what it was. Was stranger really all that good, I liked the glass at the end, and some camera shots that landed lucky by default, but this song doesn't really do anything for me.
🇨🇿 Josef S. – As much as I love Lena as an artist, I hate Taken By A Stranger. To me, it sounds really like from another world. I would expect more melody and a better staging. Those alien dancers always scared me. But I appreciate her courage to represent her country twice in a row, not so often in recent years. So yes to Lena, but no to the song.
🇩🇰 Alberte B. – I personally prefer Taken By A Stranger to Satellite due to the darker tone. It's like Lena really matured during that year – where Satellite is a more happy-go-lucky song, Taken By A Stranger is more mysterious and dark. I really like it.
Enjoy Lena's performance from the 2011 Eurovision Song Contest in the embedded video. Below the video, you can read more about her.
Lena – a mini biography
Lena Meyer-Landrut was born in Hannover, Germany in 1991. She started her career taking dancing lessons and taking some television roles as an extra. In 2010, she won the German national final for Eurovision. She represented her country in Oslo with the song Satellite which became the second Eurovision victory for Germany. One year later, she represented her country again with Taken By A Stranger. This time she got a top 10.
Lena has worked as a jury for The Voice Kids and in films voicing characters for kid's films in Germany. She has participated in the German national final and has been the spokesperson of the Big 5 Country. Lena has released five studio albums. Her last work Only Love, L was released in 2019.