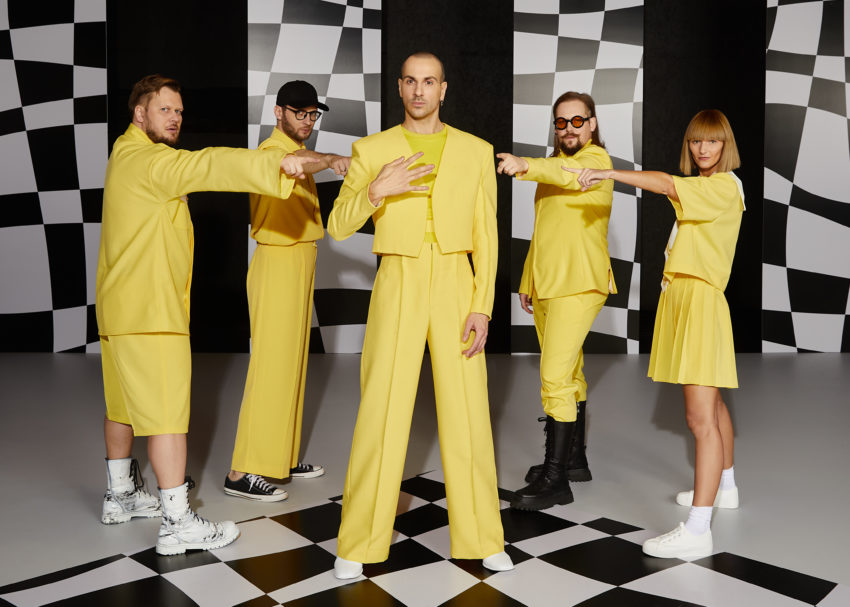 The story of The Roop began in 2008, although it took some years for them to 'shape their style'. The three band members will be on their biggest platform so far when they open the first semi-final of this year's Eurovision Song Contest with the song 'Discoteque'.
The Roop consist of Vaidotas Valiukevičius, Robertas Baranauskas and Mantas Banišauskas. We caught up with them to find out more about how it all started, the up-coming Eurovision participation, where they will be joined by dancers, Marijanas Staniulėnas and Migle Praniauskaite. And finally, just to get to know this band a little bit better.
You formed in 2014, how did you all meet and why did you want to form a group? 
In around 2008 Vaidotas was a well known pop singer in Lithuania but he always felt like this was not the way he wanted to perform and that was the reason why he decided to change his career. He began searching for musicians and that's how he met a band in which Robertas was playing drums. And when they were searching for a guitarist Robertas asked Mantas to join the band because they were friends from school times. At first we didn't even have the name for our band, and it took us several years to shape our style and come out of the studio into the public as THE ROOP in 2014. It has been a long and bumpy road, but our passion for music motivated us to move forward.
Lithuanian National Final
In 2018, the band decided to submit the song, Yes I Do, as a possible Lithuanian entry for the Eurovision Song Contest. They finished third, but the song did very well at home.
After Yes I Do didn't win the Lithuanian final, what was the reason to make you return last year with On Fire? 
Yes I Do was a very successful song for us. We realised that people like it very much. And we thought that we just needed a big platform to spread our music, where we could be heard by people. So we took a second chance by writing On Fire.
 After the contest was cancelled, did you just want to give up or how did you feel? What was your first thoughts and feelings? How did you feel when other countries let some of the artists return and you had to compete again?
We never thought about giving up. Even On Fire was about not giving up. So we just knew that there was no way in which we would not continue our journey with music. And after we heard the news that we had to compete again, we just thought to ourselves that we must act as best as we can in those circumstances.
Discoteque
When did you decide to return to the contest with Discoteque? Was it difficult to come up with a new song for this year's contest?
Our decision to return to Eurovision came quite late. We had several songs with which we thought we could participate in the contest. However, in October Discoteque was born. And by accident the song was exactly 3 minutes long. So we thought "oh, it's perfect for Eurovision".
 Did you expect to win this year's Lithuanian national final? What was it like competing again? 
 With Discoteque we wanted to continue our journey in the Eurovision Song Contest because it was cancelled last year and we had no chance to represent Lithuania. So yes, we hoped to win, but there was no guarantee. Of course when we released "Discoteque" and it broke YouTube and Spotify streaming records in Lithuania we realised that yes, we have big chances to win this year's national final.
Did Migle do your choreography? How did you meet up with her and Marijanas, and how has it been learning to dance on stage? Who decided on the yellow outfits because they are one of the best looks this year?
Miglė and Marianas are very well known choreographers in Lithuania, however, the dance moves for songs "On fire" and Discoteque were composed by Marianas mostly and Vaidotas. So when Vaidotas was looking for someone who could help with dance moves for "On Fire" he just called Marianas and asked him to meet up. After listening to the song Marianas said "yes, I like it very much, s I'm in, but we need a girl for the dance". And by accident Miglė came into the coffee bar  they were sitting in, and Marianas said "hey Miglė, we have a job for you". It's a funny story, but that's how it happened.

Oh and about yellow outfits for Discoteque. It's Vaidotas' idea. Because yellow is the colour for hope.
Warner Music Deal
Signing to Warner Brothers, what do you see happening in the future, are any albums coming and what are your plans for after Eurovision?
We are very happy with signing a deal with Warner Music and we think they're happy too, because we have big plans. We have a lot of new songs and it is only a matter of time when they will be released worldwide.
How do you think Lithuania can get its music better known around Europe?
We think it is a matter of taking your job seriously. If it's possible for a small country to have big companies doing any kind of business, for example IT or manufacturing something, you can also make it by writing worldwide known music.
Rotterdam
How are the stage plans for Discotheque going, is it going to be similar to the national final and are you looking forward to Rotterdam?
We can say that we will stay yellow, there will be 5 of us on stage and it will be Discoteque evening.
You were one of the favourites last year and are highly fancied again this year does that put extra pressure on you or are you just looking forward to enjoying the  experience?
We are always happy being on stage, we believe in our song, and we know it will bring happiness in every home and we will be enjoying every moment of that.
 You are opening this year's contest which technically makes you the first official performance of this decade, how does that make you feel?
It gives us extra excitement.
Miscellaneous
At EuroVisionary, we like to do a 'complete the sentence' where the group would pick numbers between 1 and 10 and complete the questions. WIth not being able to do this interview with the pandemic, we selected three numbers for them; 1, 2, and 6. It's these numbers because they are in semi-final 1, performing first, they have two albums and six would have been your running order place in 2020! Please finish these sentences.
Should I move to another country, I want it to be … Australia.

My worst fear is… war.

A Eurovision song I remember well is… Waterloo.
Below, you can watch a new version of Discoteque from The Roop performing in the studio.