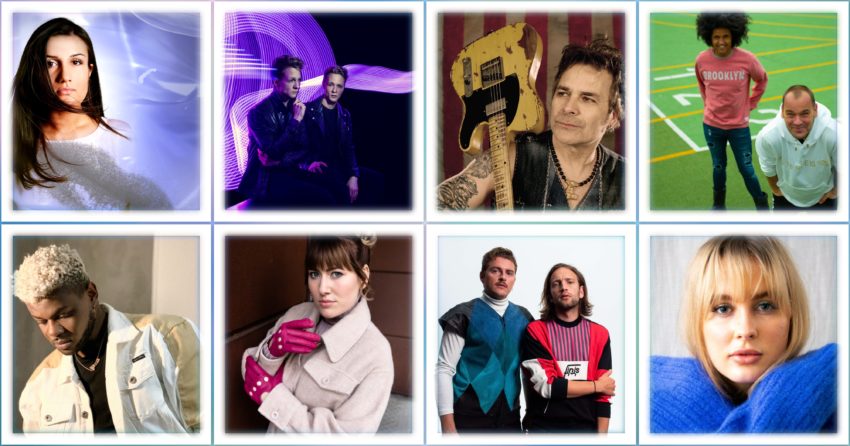 Quite a lot of songs are in Danish and as always, the list of participants is a good mix of well known established names and talented newcomers. Two of them have previous Eurovision experience, one as singer in 1978 and the other as double songwriter.
Back in October 2020, the Danish broadcaster announced that their 2021 national final would be held in a TV studio without audience. They also announced that only eight acts instead of the usual ten would compete in the final. And though the rules from EBU allowed the use of pre-recorded backing vocals, DR made it clear that it would not be used at the Danish final nor at the Eurovision Song Contest representing Denmark.
Recently we were then told that a 15-piece orchestra will back up all songs competing in the Danish 2021 final.
Since then, things have been rather quiet aside from the presentation of the hosts. The usual rumours from Danish media speculating in possible participants have been rather quiet this year too. But now, they are here: the eight acts in the run to represent Denmark this year. Through the day, they have been presented one by one on Danish radio. On the 6th of March, they will compete in the 2021 Dansk Melodi Grand Prix.
Dansk Melodi Grand Prix 2021 participants
Nanna Olivia – Hvileløse Hjerter
Jean Michel – Beautiful
Fyr & Flamme – Øve Os På Hinanden
Thomas Buttenschøn and Chief 1 – Højt Over Skyerne
Claudia Campagnol – Abracadabra
The Cosmic Twins – Silver Bullet
Mike Tramp – Everything is Alright
Emma Nicoline – Står Lige Her
Two of these have previous Eurovision experience. Mike Tramp as participant in 1978 as part of the pop group Mabel with the song Boom Boom. Chief 1 has been in the Danish Melodi Grand Prix final three times as songwriter, and won all times; first time in 1997 with Kølig Kaj's Stemmen I Mit Liv and again in 2012 with Soluna Samay and Should've Known Better and finally in 2015 with Anti Social Media's The Way You Are.
On DR's website, you can listen to all eight songs now. At 15:00 CET, they will be released on all streaming platforms.
Why so many songs in Danish, one might ask. And yes, it is a lot more than usual, but the situation is also anything but usual. The Coronavirus pandemic have brought people together, and a lot of Danes have tuned in regularly through the past year to DR providing virtual sing-a-long evenings. The Danish language is now more than ever a natural way for artists to express themselves.
Denmark at the Eurovision Song Contest
With three victories and 26 top 10 results, Denmark is doing fairly OK at the Eurovision Song Contest. They have however had a lot of ups and downs in the recent decades. While two victories and eight top 10 results in the period from 2000 to 2019 sounds quite alright, they have in the same period failed to reach the final four times.
Denmark's last victory dates back to 2013 where Emmelie de Forest charmed most of Europe and beyond with her Only Teardrops. Before that, they won in 2000 with Olsen Brothers hymn to women in all ages; Fly On The Wings Of Love and finally all the way back to 1963 and Dansevise.
Denmark last finished in top 10 in 2018 where Rasmussen reached a 9th place with Higher Ground. No one knows how Ben & Tan selected for the 2020 contest would have scored as unfortunately that contest was cancelled due to the COVID-19 pandemic.