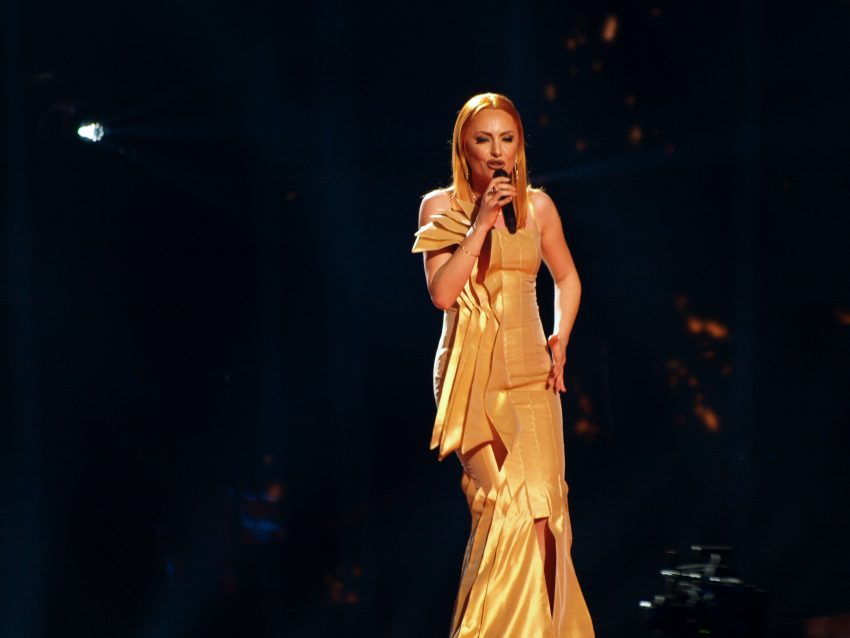 Albania has had mixed results in the contest since their debut in 2004, and so it came to their thirteenth appearance in 2016, to see whether they would be lucky that year or not.
On 27 December 2015, Albania hosted the Festivali i Këngës 54, which was won by the charismatic performer, Eneda Tarifa and the song, Përrallë.
After revamping the song to English and Fairytale, Eneda spent most of her time in Stockholm 2016, defending this decision, with the head of delegation asking why other countries were not constantly bombarded with this question.
Ultimately, on 12 May 2016, Edena performed 17th out of 18 in semi final 2. She received 45 points, including top marks from the North Macedonia televote group, but sadly gave Albania their sixth non qualification.
Fairytale – opinions from fans
In order to find out what Eurovision fans today think of this Albanian entry from 2016, we asked our Eurovision Fan Panel. It includes team members as well as fans from all over the world.
Michael O. – The song is unusual in that it doesn't have an instant hook, but is also one that doesn't become boring. Eneda sang her heart out with this song, but the tune just didn't have enough impact. I'd love to see Eneda back for another try as I'm sure with a stronger song, she would do really well.
Wouter V. – I'm having problems connecting to the music, the lyrics and most of all Eneda. Which is always a problem when you're trying to convince millions of TV viewers to vote for you. It has a nice tune though, and the song isn't bad at all. Easily the second best song called Fairytale.
Alvaro S. – A talented singer with a song that sounded much better in the original language than this English version. In particular the chorus sounds annoying to me. To summarize, we have a powerful voice but a forgettable ballad.
Quique B. – For the first time in my life I didn't remembered anything of this entry and I'm sure I saw that semifinal and must exist in my CD. I have now seen it again and it's a correct song, she sings well but now I've forgotten it again
 Steinar M. – Considering this a typical "ESC power ballad" it's not THAT bad. Such songs are usually worse than this, especially modern ones. Among the few recent ones I love are Poland 16, Lithuania 08, and Norway 01 However, I had – for a change – to hear it again to remember it. Maybe not the best sign. Nothing very interesting or original about it. But at least the chorus is not too bad. I understand why it failed to qualify. But it was certainly not worse than Israel – which DID qualify from this semi. I think Georgia, Cyprus and Netherlands were the best songs in 2016
Andrew G. – Here is what I like about the Albanian entry from 2016. The gold dress and the golden LED floor to match.
Josef S. – A typical Eurovision song from Albania. Powerful female vocals which Eneda Tarifa delivers are a must have. Maybe the audience is sometimes tired of the same style on and on so this did not succeed. To me it was interesting and slightly above average. But objectively said, it should have stayed in semis, so I'm glad it did. Not enough this time, Albania.
Charlotte J. – I love the lines where she sings 'and I'll fight for you, give my life for you' in the chorus, but aside from that, I am sorry, but this song isn't really catching my attention. The rest of the song is pretty boring, and unfortunately not even the dress appeal to me.
John D. – If there was ever an Albanian James Bond film this could be the theme song. The Swedes, as usual, provided great hi tech staging which helped this along. This is one of those on the CD that you usually skip however. I'd love to see Albania win someday. Maybe if they wouldn't choose so many intense dirges like this.
Eneda Tarifa – a brief biography
Eneda was born in Tirana on March 30, 1982. She performed in another Albanian music contest, Kënga Magjike in 2001, then made her debut in Festivali i Këngës, the 42nd edition, with the song, Qëndroj in 2003.
Her next appearance was in Festivali i Këngës 46 with the song, E para letër – she placed 10th. Eneda went on to host the T.V. show, Portokalli.
Edena teamed up with her cousin Jon Tarifa to record the rap song Together.
After entering Eurovision in 2016 with the song Fairytale, Eneda became a judge on The Voice Kids Albania, 2018 season.
Edena returned to the Kënga Magjike 2019 contest, and this time, Edena won with the song, Ma zgjat dorën.