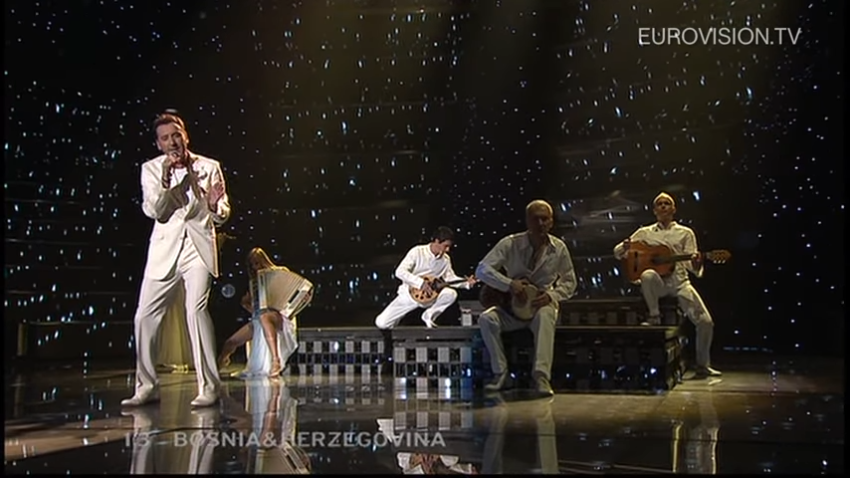 With a song about unhappy love, and a beautiful staging, Bosnia & Herzegovina achieved their best ever Eurovision result. 'Lejla' placed third at 2006 contest. 14 years later, this song is still loved by many Eurovision fans – although there are a few who dare to it call boring.
Broadcaster organisation PBSBiH internally selected Hari Varešanović to represent them at the 2006 Eurovision Song Contest. He collected his music group Hari Mata Hari to perform with him. The song Lejla is written by Eurovision legend Željko Joksimović. Fahrudin Pecikoza and Dejan Ivanović provided the lyrics.
In the semi-final, the song placed second after Finland's Lordi. In the final, Finland won while Russia's Dima Bilan came in second place. Bosnia finished third ahead of Mihai Trăistariu from Romania. The 229 points for Hari Mata Hari happened with the maximum 12 points from Albania, Croatia, North Macedonia, Monaco, Serbia & Montenegro, Slovenia, Switzerland and Turkey.
The third place is Bosnia & Herzegovina's best Eurovision result.
Lejla – opinions from fans
In order to find out what Eurovision fans today think of this Bosnian entry from 2006, we asked our Eurovision Fan Panel. It includes team members as well as fans from all over the world.
🇬🇧 Aaron S. – This song is nice, it shows why Bosnia and Herzegovina continue to be missed at Eurovision today. It's a beautiful song and you can feel the power and energy to this day, it's a beautiful representation of Bosnian culture.
🇧🇦 🇩🇰 Elvir P. – This is the prototype of a perfect Balkan ballad. Touching lyrics, beautiful music that comes out the spirit of Bosnia and Herzegovina in the best possible way and powerful vocal. Furthermore, the staging was so magical and unforgettable. This is is by far Bosnia and Herzegovina's best attempt in the contest and yes – it should have won back then if you ask me.
🇨🇴 🇫🇮 Alvaro S. – I like the captivating sound from this entry with a chorus that in spite of the language barrier is easy to identify with the sounds from the Balkans. A beautiful ballad.
🇳🇱 🇩🇰 Wouter V. – Not as good as Lane Moje, but close to.
🇩🇰 Liza P. – Lejla is a very nice Balkan ballade. To compare it to Željko Joksimović's 2004 entry would be unfair, because that song is so unique in my opinion and can't be surpassed.
So without comparing the song to Lane Moje, I think that this is also a beautiful song. Slowly building up to the great finish. But the finish does lack a bit of greatness. I miss that chill down my spine, that I sometimes get at the crescendo of great ballades. However performance and voice is flawless, and 3rd place is well deserved.
🇵🇱 🇯🇪 Pawel J. – I wasn't very impressed at first but that song has grown on me very quickly. I absolutely love the powerful performance. Even without understanding the lyrics you can feel the pain and heartbreak of a man longing for the lost love. No surprise it became the best placing ever for Bosnia & Herzegovina. Such a shame we didn't see the country in the contest in the last few years – we need them back at Eurovision.
🇬🇧 Michael O. – Well I expect to be the spoiler on this one, but I think it's a dreary old snooze fest of a song, that has no hook and doesn't build anywhere as it goes along. Very over rated.
🇬🇷 Kostas C. – I am not a fan of this kind of songs, known as "ethnic ballads". I find them quite boring. But I can understand the good result, back in 2006. I liked the stage presentation, especially at the end of the song.
🇩🇰 Charlotte J. – I am quite mixed when it comes to this one. I do enjoy listening to the song, absolutely. I wouldn't skip it. But at the same time, I also think that it's a bit boring. It's really weird… The staging however, that's stunning. Comparing to the other songs that year, I think Bosnia placed a little too high, but only a little bit. I still have Lejla in top 5 – just it's 4th or 5th instead of third.
Enjoy Hari Mata Hari's performance from the 2006 Eurovision Song Contest in the embedded video. Below the video, you can read more about the act.
Hari Mata Hari – a mini biography
59 year-old Hajrudin Varešanović started his professional career back in 1979. In 1985 he created the group Hari Mata Hari, which performed over 1,000 concerts and sold 5 milions album to date.
Hari Mata Hari participated in the Yugoslav national final, Jugovizija, twice: in 1986 with the song U Tvojoj Kosi (5th place) and in 1987 with the song Nebeska Kraljica (14th place).
In 1999 Hajrudin Varešanović was chosen to represent Bosnia and Herzegovina at Eurovision. However, he was disqualified due to an issue with the song's status. Hari sold the song Starac I More to Finland in 1997 and Finnish artist Janne Hurme recorded that song in Finnish, named Sydänveri.
Finally, in 2006 Hajrudin and Hari Mata Hari made it to Eurovision with the song Lejla. The song placed third, which is to date the best ever result achieved by Bosnia & Herzegovina.
Hari Mata Hari is still active on the Bosnian music scene. His last studio album Ćilim was released in 2016.