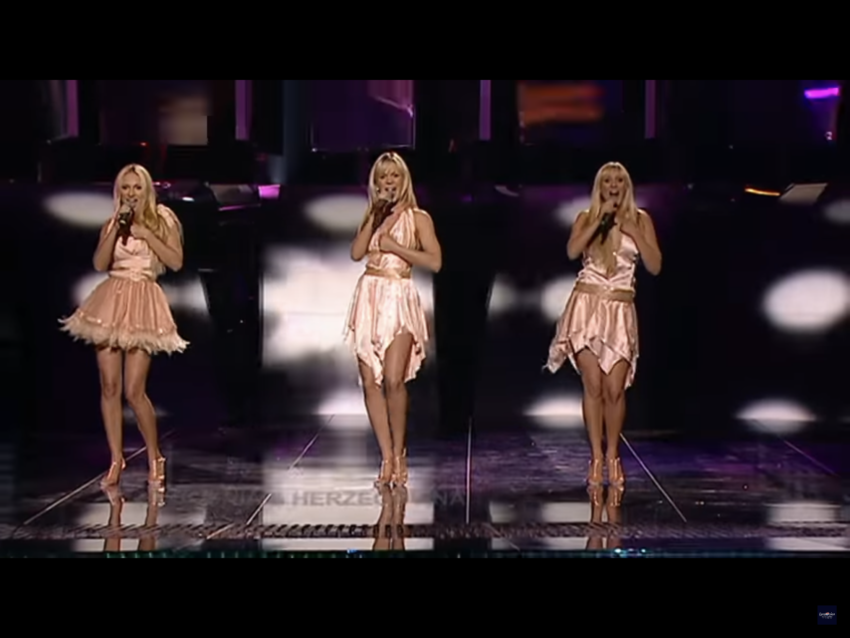 Poor Feminnem in 2005 had to compete with several controversies when they represented Bosnia-Herzegovina with 'Call Me'. Their entry however, that still stands as a fun an enjoyable song for many fans.
First, the rules stated only Bosnian natives should represent the country, but one of the ladies was born in Croatia. When they got to Eurovision, there were accusations the backing singers were doing all the vocals. Finally, when they thanked Copenhagen at the end of their performance, the casual viewer didn't realise it was a joke from their promotional video.
On 6th of March 2005 the BH Eurosong was held from the PBSBiH studios in Sarajevo. Fourteen acts competed with Feminnem performing Zovi, third. They came first with jury and third with the public on the scoreboard.
Translated to English as Call Me, the group performed 21st on May 21, 2005 at Eurovision in Kyiv, finishing in 14th position with 79 points, including top marks of 10 from Austria, Turkey and Croatia.
Call Me – opinions from fans
In order to find out what Eurovision fans today think of this entry from Bosnia-Herzegovina 1982, we asked our Eurovision Fan Panel. It includes team members as well as fans from all over the world.
Charlotte J. – Extremely catchy, really enjoyable and too freaking Swedish. To me, it sounds like a mix of Charlotte's 1999 winner and Fame's 2003 entry, which actually isn't a bad thing as I love both of those. I really do enjoy Call Me, too. I can't sit still, and I find myself singing along to it. It really is extremely catchy, but also 'too Swedish' if there is such a thing… Had it represented Sweden, it would have finished in top 5. For Bosnia and Herzegovina, it instead finished 14th.
Michael O. – This is exactly what it says on the box, a good fun pop song. I thought the ladies sang very well, and I highly enjoy this song, certainly a lot more than Hata Mata Hari and the like. Pity they didn't get a chance to shine more.
Nihad B. – Oh the memories…the only entry that year that actually celebrated 50 years of Eurovision. I loved these girls, the song was kitschy but fun…and they were superb. I believe that they should have ended up in top 10 that year.
Enis H. – This is such a fun song. It immediately makes me smile and gets me in a good mood. Their voices sound great together, and I love the dance moves. It really reminds me of a typical europop song in 2005, which I don't mind.
Christos T. – A catchy and up-tempo song that could be distinguished and have success only among other songs of the 80s. The singers were well synchronised and had an impressive performance on stage but compared to other entries from Eurovision 2005, I think they fairly succeeded in taking 14th place on the scoreboard.
Josef S. – This is the first time we saw Feminnem at Eurovision and they really slayed back then. It is actually a completely different song from their latter ballad Lako Je Sve, but Call me is catchy and makes you dance. I love such an easy-going song like this. The performance is also pretty good, as all three girls are dancing, so they show us they can do some multitasking, an activity women are really good at.
Milosav T. – What can one say about an ABBAesque song sung by three Barbies in golden mini dresses? Although I much prefer their next ESC effort, Call me is still a decent try from the Balkan Agnethas. The girls can certainly sing, and their performance was upbeat and dynamic, but the song itself is about 20 years late for the Eurovision train. Certainly not the song I listen to on a regular basis, but in the right mood, Call me can be the right choice. 3/5 stars
Alvaro S. – The girls from Feminnem give me the energy of the Europop songs we used to listen to two decades ago. It is enjoyable just as it is, and probably would have got a better result should they have represented a powerhouse.
Mhairi O. – I don't really like this song. I prefer their 2010 entry more than Call Me. I feel this one is very bland.
Enjoy Feminnem's performance from the 2005 Eurovision Song Contest in the embedded video. Below the video, you can read more about him.
Feminnem – a brief biography
In 2005, when Feminnem represented Bosnia-Herzegovina with Call Me, they comprised of members, Ivana Marić, Neda Parmać and Pamela Ramljak.
Ivana was born on November 12, 1982 in Čapljina. Ivana expressed that being part of Feminnem, totally drained her and in time she left.
Neda was born on 28 April 1985 in Split. Pamela was also born in Čapljina, on Christmas Eve 1979. The group released their only album together, Feminnem Show in 2005. The group had a Friday night television show in Bosnia-Herzegovina, of the same name. Nikol Bulat replaced Ivana when she left the group.
In 2010, Feminnem represented Croatia at Eurovision with Lako Je Sve. By that time Nikol had been replaced by Nika Antolos. Nika was born on August 10, 1989 in Rijeka. The group also released a second album, with the same name as their Eurovision entry. A final album was released later in 2010, Easy To See, before they split in 2012 to pursue solo careers.