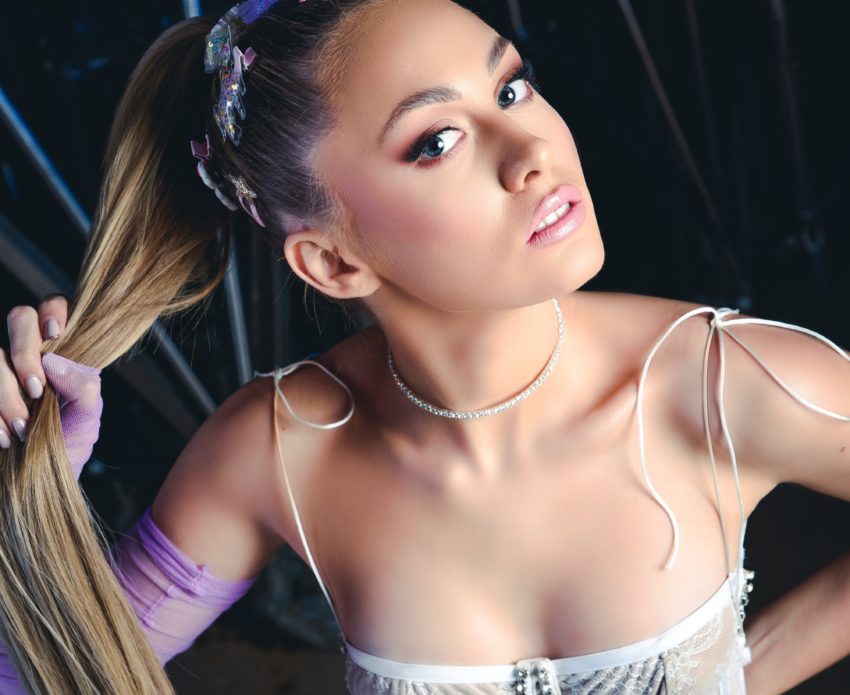 Albina represented Croatia at the 2021 Eurovision Song Contest. Her debut single 'Imuna Na Strah' was released in October 2020 right after her participation in The Voice, and before her Eurovision 2021 adventure.

After her successful The Voice Croatia participation, Albina signed a record deal with Universal Records and released this beautiful modern ballad Imuna Na Strah where we can hear her vocal abilities more than we do in Tick-Tock. She was nominated for the Zlatni Studio awards with this song, which reached an 11th place in the Croatian charts.
Imuna Na Strah has a different style than Albina's Eurovision entry Tick-Tock. It's a relatively slow tempo modern pop ballad which shows Albina's vocal abilities different from the uptempo Tick-Tock. Can this also appeal to Eurovision fans?
Imuna Na Strah – opinions from fans
In order to find out what Eurovision fans think of this song from Albina, we asked our Eurovision Fan Panel. It includes team members as well as fans from all over the world.
🇳🇱 🇩🇰 Wouter V. – Oh yeah, that's so much more like it. Whoever got her to bring that, excuse my French, horrible Tick-Tock song to Rotterdam should have shown her more respect. Imuna Na Strah does so much more justice to her powerful voice, while her Eurovision song has a chorus that only distracts from it. Balkan power-op at it's (close to) best!
🇩🇪 Pascal W. – I think this song is much better than her Eurovision entry. It is more contemporary and in my opinion it suits her voice a lot better. The visuals in the music video are great as well.
🇧🇦 🇷🇸 Miljan T. – I really like Tick-Tock a lot, but this one – not so much. It has the typical sound and flair of Croatian summer ballads, which are just bland and go nowhere. I hope she'll continue to record more poppy, "younger" music in her further career.
🇩🇰 Charlotte J. – Not a fan of her Tick-Tock entry so I am glad to hear that she has something completely different to offer too. This is, in my opinion, much better. It has a nice build up, a good flow, and she sings it well. I don't understand the lyrics, but that doesn't matter. I like what I am hearing. Not sure, I will actively seek it, but if it turns up in some occasion, I will enjoy it.
🇹🇷 Gunec G. – I really loved this beautiful ballad from young Croatian artist Albina where we can hear her vocal abilities. If we think that this is her first and only single apart from Tick-Tock, and considering her age, we can say that Albina is a really promising young artist.
🇨🇿 Josef S. – This type of Balkan pop ballads in native language is exactly something I love, so it's not surprising that I fell in love with Albina's Imuna Na Strah from the first time it crossed my way. What is interesting here is that it sound very modern and not necessarily like from Croatia. If the lyrics were in English you could have guessed it is from the USA, similar songs have in the past been releases by artists like Demi Lovato and others. That is definitely a positive thing about this gorgeous ballad.
🇦🇺 Michael R. – This is such a beautiful ballad, that really shows off Albina's voice. It reminds me a lot of similar ballads you might see from Italian artists like Laura Pausini or Giorgia. Very different from Tick-Tock but just as enjoyable.
🇬🇧 Michael O. – Albina has a very pleasing voice, and this is a nice ballad, different from Tick-Tock. Alas, I don't see her becoming a huge act away from the Adriatic countries, but with songs like this, she should be able to forge a sizeable career.
🇳🇱 Vica K. – I love this song. Her voice, the video clip it is amazing. I loved Tick-Tock as well. But I think that she feels more comfortable with ballads. I will definitely listen to this more often.
🇨🇴 🇫🇮 Alvaro S. – I came expecting something like Tick Tock, and instead I get a powerful pop song. I like the chorus and in general this song makes me appreciate Albina's voice more than her Eurovision song. I am not sure however, if the audience would enjoy this more than her catchier tune but at least in my case power ballads are more effective.
Enjoy Albina's Imuna Na Strah in the embedded video. Below the video, you can read more about her.
Albina – a mini biography
Albina Grčić was born on the 6th of February 1999 in Split Croatia. She attended X Factor Adria's second season in Belgrade, Serbia. After stepping into the second round, when she was offered to go on with a girl group, Albina declined and left the show.
As per December 2019, she appeared on the third season of The Voice Croatia. After a long battle, she finished third overall on the final night. After The Voice, Albina signed a record deal with Universal Music Croatia and released Imuna Na Strah on the 16th of October 2020.
When December 2020 came, young Albina was announced as one of the participants of the Croatian national selection Dora 2021. After winning both jury votes and televotes, she was honoured to represent her country at the Eurovision Song Contest 2021 in Rotterdam, the Netherlands. Unfortunately, she received 110 votes in the first semi-final and placed 11th which prevented her to pass to the final. She lost with only 5 points to the last qualifying spot.