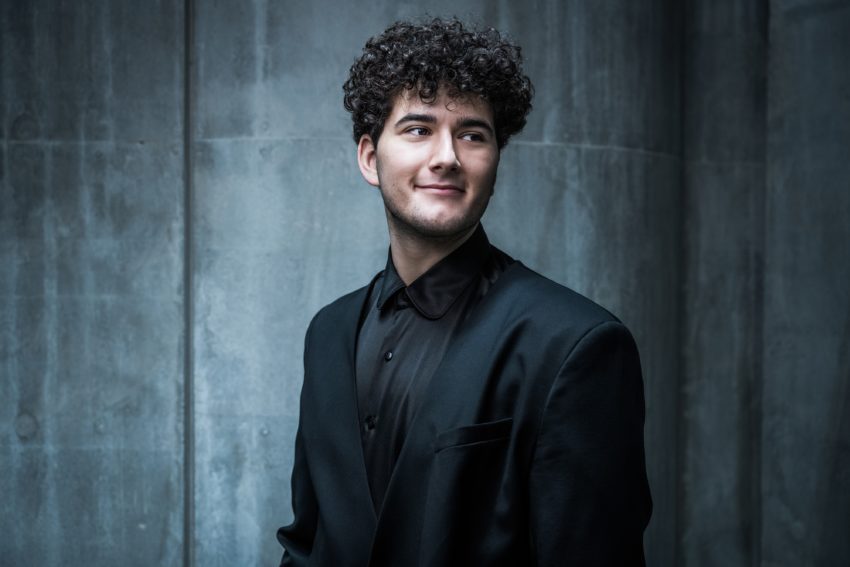 Gjon's tears represented Switzerland at the 2021 Eurovision Song Contest. In 2018, he topped the charts in Albania with the song 'Babi'. This shows that he and his music has a potential of being a classic.

When Gjon was selected to the later cancelled Eurovision Song Contest in 2020 with Répondez-moi and earned name and fame among fans, he already had a number one hit in Albania, his father land, Albania named Babi.
Gjon's Tears has a style of emotional songs with strong vocals, we already know that. Babi, is not an exception. It topped the charts in Albania in 2018 when it was released. At the 2021, Eurovision Song Contest, Gjob brought Switzerland one of its best result in years. Do fans love Babi too?
Babi – opinions from fans
In order to find out what Eurovision fans think of this song from Gjon's Tears, we asked our Eurovision Fan Panel. It includes team members as well as fans from all over the world.
🇩🇰 Charlotte J. – Gjon's Tears is talented, no doubt about that. His talent is easily spotted in this Babi song. Unfortunately, the song becomes a bit too boring for me. But it's really nice to hear him in English, and it's not at all bad, just a bit too boring.
🇹🇷 Gunec G. – Another magical track from the highly talented young Gjon Muharremaj. He has a magical, sensational voice and singing technique. I think Babi is another great song that has a potential of being a classic with emotional texture and jazz elements.
🇳🇱 Vica K. – Just like the other songs from Gjon's Tears, this song is very touching. He is a very good singer. It is nice to hear him sing in English and Albanian. There was one thing I didn't expect, that was the drums. I like that part in the song. Overall a good song to listen to.
🇨🇴 🇫🇮 Alvaro S. – I like the quality of the music video and the sound of the piano. My first reaction when I listened to this song was to be surprised to hear Gjon singing in English and Albanian with his accent. That is something! He is a great performer and a nice person to listen to when he is being interviewed. I wish him a successful career, so he gives us more singles like this one or his Eurovision entries.
🇬🇧 Paul G. – His voice is amazing. There is an emotion in his voice which you don't get from some singers. I am really looking forward to a CD coming out from him.
🇳🇱 🇩🇰 Wouter V. – In many ways this song feels like a much longer version of Tout l'Universe. It has a similar melancholic feel to it, and while the video for his Eurovision song features a car crash in a more metaphorical sense, it seems like the accident in this video is much more literal. I don't know what the backstory is behind the song, but I feel an intense sadness listening to it. Yet despite it's obvious musical and vocal qualities, I can't get myself to really like it. It's too smooth for my taste.
🇨🇿 Josef S. – Babi is probably one of my favourite songs I discovered recently, let's say two years back. As I already followed Gjon throughout his path in The Voice and looked for his music after it. Babi is pure music and so good, I just can't describe it. When Gjon was announced as Swiss representative for 2020, I expected something similar to this and actually in both of his Eurovision shots, I hear similar influences as in Babi. This is what I expect from Eurovision – artists being loyal to their style and music they make. ♥
🇬🇧 Michael O. – More slow stuff from Gjon though his singing is first-rate. The song has a lot of different tempos and does well in the indie genre of music. Not one I'd listen to over and over, but an admirable effort.
🇮🇪 John D. – A great singer. He reminds me of Sam Smith. I expect he will also have a very successful international career. This song Babi is interesting. Not quite sure what it's about, but he delivers it with passion and style.
Enjoy Gjon' Tears' Babi in the embedded video. Below the video, you can read more about him.
Gjon's Tears – a mini biography
Gjon Muhammeraj aka Gjon's Tears was born on the 29th of June 1998 in Broc, Fribourg Switzerland. His parents are Albanian. At the age of 12, he participated in the first season of Albania's Got Talent and placed third in the final. In 2011, Gjon reached semi-final of Die grössten Schweizer Talente, an important talent show in Switzerland. His breakthrough was to reach the semi-finals in the French The Voice in 2019.
Europe knew him very well when he was chosen to represent Switzerland in 2020 in Rotterdam with Répondez-moi. His song topped the bets. However, Eurovision was cancelled due to pandemics. In 2021, Switzerland gave him the duty of representing them again for the 2021 Eurovision Song Contest. This time he sang Tout l'Univers which was written and composed by Gjon's Tears, Nina Sampermans, Wouter Hardy and Xavier Michel. He won the second semi-final with 291 points. In the grand final, he received top points from the juries, but placed 3rd after the televoting with a total of 432 points. This was one of the best results that Switzerland achieved for years.