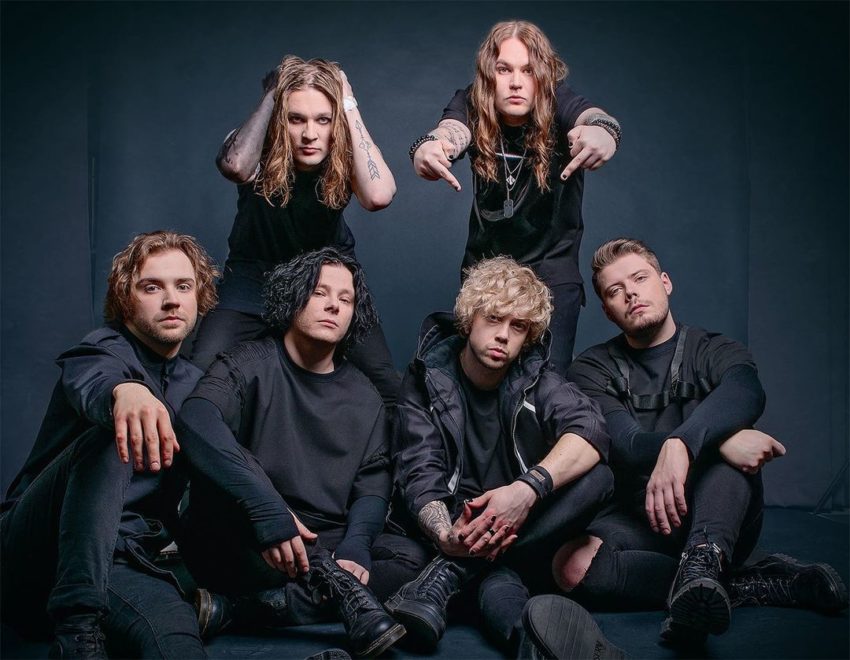 Blind Channel represented Finland at the 2021 Eurovision Song Contest. They were true to their style, and for lovers of rock music, the band has much more to offer of its kind.
Blind Channel released the song Timebomb in 2019 when they were a relatively unknown band. Alex Mattson is featured in this single. Mattson who is also a DJ and music producer had not joined Blind Channel back then. He officially joined Blind Channel in October 2020.
Aleksi Kaunisvesi (Alex Mattson) together with Blind Channel's members Joel Hokka, Joonas Porko and Niko Moilanen wrote Timebomb.
In Timebomb, the writer compares himself with a bomb that is about to explode. The song also refers to the band's lives going on tour. Moreover, the lyrics talk about living life on the edge, not caring about the consequences of one's actions doing things like "popping pills","breaking hearts, stuff and rules". The author explains that he is "dying to feel" disregarding the red flags even if the consequences of his reckless actions may end up killing him.
Timebomb was the first single of Blind Channel's third studio album Violent Pop.
Timebomb – opinions from fans
In order to find out what Eurovision fans think of this song from Blind Channel, we asked our Eurovision Fan Panel. It includes team members as well as fans from all over the world.
🇬🇧 Michael O. – I'm not normally into this kind of music, but even if this is quite heavy, the song is very melodic too. Quite good in small doses.
🇳🇱 Vica K. – This is exactly the kind of song I expected from Blind Channel. I usually don't listen to rock songs, but I liked their song and performance on Eurovision. This song is good.
🇩🇰 Charlotte J. – Maybe it sounds weird to say it about a rock band, but this song is not nearly as melodic as Dark Side. I loved their Eurovision entry, but this one doesn't catch me in the same way. It's not bad, I am just having a hard time connecting to Timebomb.
🇷🇴 Doina A. – I just watched Timebomb by Blind Channel. It is as the band defined their musical style: 'violent pop'. Lots of energy, high notes, and all six members are great musicians. They perform it interestingly and the song is quite danceable. I hope this band will be successful, as they've signed with Century Media/Sony Music.
🇳🇱 🇩🇰 Wouter V. – Timebomb is Ok, but it doesn't exactly live up to the expectations I had after Dark Side. At least not in the studio version. I found a recording from a live concert, and now I'm hoping for Blind Channel to visit Aalborg, Denmark sometime in the near future. They have a roughness on stage that doesn't really shine through in the studio. But for now I'd better listen to their whole album on my favourite streaming service.
🇹🇷 Günec N. – I love those guys. The song is typical Blind Channel rock and I love that style.
🇨🇴 🇫🇮 Álvaro S.- The comparisons with Linkin Park in this song are still there. However, I do not see it as a liability. I like how the song suddenly 'explodes' just a couple of seconds after it starts. I like it even if it is not my genre. It is the type of song that makes people go crazy when they listen it live.
🇨🇿 Josef S.- Compared to Dark Side, Timebomb is harder, but still keeps the melodic rock in style of early works of Linkin Park from early 2000s, which is something I really love and that's why I was also fan of Dark Side. In some aspects I find Timebomb maybe even a little better.
🇫🇮 Martti I. – Blind Channel came and really took Europe by storm. Luckily their story continues in the most positive ways. This Timebomb really should be used as wake-up music as for sure you'll get up. The song is catchy, but not as catchy as their Eurovision entry. Still, I kind of like it….though it is quite far from what I usually listen to.
Enjoy Blind Channel's Timebomb in the embedded video. Below the video, you can read more about them.
Blind Channel – a mini biography
Blind Channel is a six member rock (or as they prefer to call their genre 'Violent Pop') band. The band is originally from Oulu, Finland. Blind Channel started their music adventure as a five members music group in 2013. In 2014, they participated in the Wacken Metal Battle, one of Europe's biggest metal festivals. They signed their first music contract that same year.
During that period of time they performed as the warm-up act for international bands such as Simple Plan and Hollywood Undead. In 2018, they went on tour with All That Remains and Sevendust. Blind Channel has released three studio albums. In 2021, they participated in the Finnish national final UMK. They won the right to represent Finland at the Eurovision Song Contest over fan favourites Teflon Brothers and Aksel (Finland 2020). Their song Dark Side ended in sixth place, Finland's best result in Eurovision since Lordi's victory in 2006.
In May 2021, Blind Channel signed an international record deal with Sony Music.