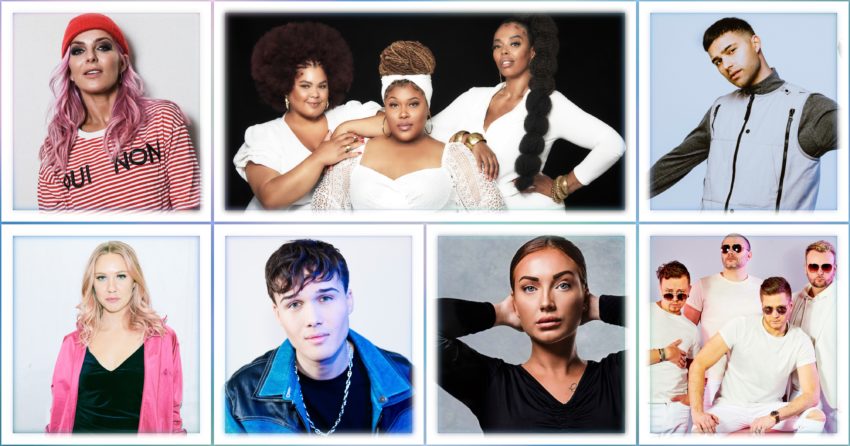 A mix of well known established names, including some we have seen on the Eurovision stage and up-coming new talents. That's the cocktail Sweden have waiting for us in their fourth heat taking place tomorrow.
For Eurovision fans there are plenty of familiar faces in this year's Swedish selection. If we just look at the ones who previously represented Sweden at the Eurovision Song Contest, then three have already been competing so far, and on Saturday, we'll see another two with Eurovision experience.
In the first heat, 1993 participant Arvingarna qualified directly to the final whereas 2003 participant Jessica Andersson found herself in the dreaded 5th place and as such out of the competition just as she was beginning to feel she had a chance for a 2021 Eurovision comeback. In the third heat, we saw 1999 Eurovision winner Charlotte Perrelli take the easy road straight to the final.
Melodifestivalen 2021 4th heat participants
Tess Merkel – Good Life
(Songwriters: Tony Malm, Tess Merkel, Palle Hammarlund, Mats Tärnfors)
Eva Therése Margareta "Tess" Merkel is 50 years old, and while her name might not sound that familiar, the name Alcazar probably rings a bell with many fans. As a part of that group for 20 years, she has participated in Melodifestivalen five times. They have two third places as best results; in 2003 with Not A Sinner, Nor A Saint and again in 2014 with Blame It On The Disco. 2021 marks Tess' first attempt as a solo singer in Melodifestivalen.
Lovad – Allting Är Precis Likadant
(Songwriters: Mattias Andréasson, Alexander Nivek, Lova Drevstam, Albin Johnsén)
28-year-old Lova Inger Irene Drevstam is debutant in Melodifestivalen, but she is a singer and songwriter with a lot of potential. Sverige's Radio named her part of Stockholms Topp 5 and in 2019, she received a scholarship for her musical work. In 2020, she had a radio hit with the song Vi Gjorde Vårt Bästa together with Albin Johnsén, who is also one of the songwriters on this song.
Efraim Leo – Best Of Me
(Songwriters: Efraim Leo, Cornelia Jakobsdotter, Amanda Björkegren, Herman Gardarfve)
Efraim was born in 1997. He began to learn the guitar when he was 13 years old. At the age of 16, he started making videos and posting them on YouTube. They found quite a bit of popularity in Sweden. In 2020, he released his first EP called Timing which is about different stages of a relationship. The first track from the EP, One Of Them Girls became a big hit in Sweden.
The Mamas– In The Middle
(Songwriters: Emily Falvey, Robin Stjernberg, Jimmy Jansson)
The Mamas consist of Ashley Haynes, Loulou Lamotte and Dinah Yonas Manna. Ashley was born in America whereas the other two Mamas are native born Swedes. The Mamas were formed when John Lundvik in 2019 asked his backing singer Paris Renita to find him a group to support him on the song Too Late For Love. The song went on to be Sweden's entry at the 2019 Eurovision Song Contest. Paris left the group, and as a trio they entered the Melodifestivalen 2020 which they won with the song Move. As Eurovision was lost, they are yet to get their own Eurovision experience being at the front.
Sannex – All Inclusive
(Songwriters: Greta Svensson, Hans Thorstensson)
Sannex are a traditional Swedish dance band. The current members are Andreas Olsson on vocals and guitar, Patrich Rundström on piano and vocals, Christian "Mini" Olsson on bass and vocals, and Micke Norsten on drums and vocals. The band have been around since 1990, and have ever-changing members of the group. The height of the popularity came in 2014 when they reached number four on the charts with the album Jag Vill Leva.
Clara Klingenström – Behöver Inte Dig Idag
(Songwriters: Clara Klingenström, Bobby Ljunggren, David Lindgren Zacharias)
Clara began her career in 2019. Her songs are known in Sweden for their honest and raw lyrics. In 2020 alone, she released five singles. Her first single, Ensam I En Stad, attracted attention, and was followed by Sommarminnen. Clara comes from Gotland, growing up in a musical family. Her music has been described as like scripts for film plots.
Eric Saade – Every Minute
(Songwriters: Eric Saade, Linnea Deb, Joy Deb, Jimmy "Joker" Thörnfeldt)
This will be the fourth time that Eric is taking part in Melodifestivalen. In 2011, he represented Sweden at the Eurovision Song Contest and came in third place with Popular. The last time he tried out at Melodifestivalen was in 2015 with the song Sting, which finished fifth in the final. Eric has released a total of five albums in Sweden. In 2019, he was furthermore one of the hosts of the Swedish Melodifestivalen selection.