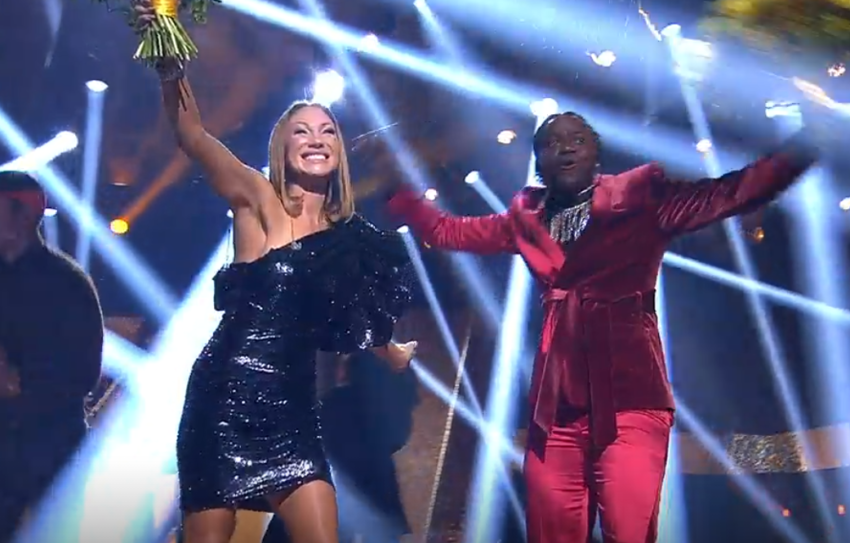 Tension was high already from the beginning with 1999 Eurovision winner Charlotte Perrelli opening the show. An interesting line-up and good variation in songs; that what was Sweden had for us this third heat.
In the season opening of Melodifestivalen, we saw Sweden's 1993 Eurovision participant Arvingarna qualify directly to the final. Tonight, their 1999 winner would compete to do the same. With the last name Nilsson back then, now Perrelli, Charlotte won the Eurovision Song Contest with the song Take Me To Your Heaven. In 2008, she once again represented Sweden, this time finishing 18th with Hero.
As usual, Charlotte and the other six participants tonight, were fighting for two spots direct to the final, and two to the second chance round. If you aren't familiar with all the acts, please do check out our Get-to-know article.
The result of Melodifestivalen 2021 – third heat
A simple task for the Swedish population tonight: First select five acts to the second round. Then vote again, and now send two straight to the final and another two to Second Chance round.
| | | |
| --- | --- | --- |
| Act | Song title | Placement |
| Charlotte Perrelli | Still Young | To the final |
| Tusse | Voices | To the final |
| Alvaro Estrella | Baila Baila | To second chance round |
| Klara Hammarström | Beat Of Broken Hearts | To second chance round |
| Emil Assergård | Om allting skiter sig | 5th place |
| Mustasch | Contagious | 6th-7th place |
| Elisa | Den du är | 6th-7th place |
The show
Just like in most other countries, the Swedish shows are held without an audience. The shows won't be held in various parts of the country either as this time, all shows take place from the smaller arena Annexet in Stockholm.
At 20:00 CET the show kicked off. The show producer and former Eurovision participant Christer Björkman (Sweden 1992) hosted the show this time with a bit of help from Jason Diakité. The opening act was Timbuktu by Flickan and Kråkan performed in historic costumes. Jason treated us, the viewers, with different interesting costumes. The participants read their memoirs about Eurovision, their childhood, their family, and their musical past before their performances. The show was spiced up with short comedy sketches. After the first elimination, the show continued with interval acts by Young Swedish artist Sabina Ddumba Jason Diakité and TIMBUKTU feat. MAPEI.
Sweden at the Eurovision Song Contest
With two wins within the past eight years, Sweden is catching up on Ireland's record with seven Eurovision victories. Sweden is now only one down.
Since the introduction of semi-finals in 2004, Sweden only failed to reach the final once. By a coincidence that was in 2010 where Anna Bergendahl's This Is My Life finished 11th in the final, and where Denmark came 4th in the final with a song rejected for the Swedish selection!
Since 2014, things however have been extremely impressive with only finishing outside top 5 once in this period. First Sanna Nielsen came third in 2014, then Måns Zelmerlöw won in '15 and finally Frans, Robin Bengtsson and John Lundvik finished 5th. Sweden's only none top 5 result was a 7th place achieved by Benjamin Ingrosso.