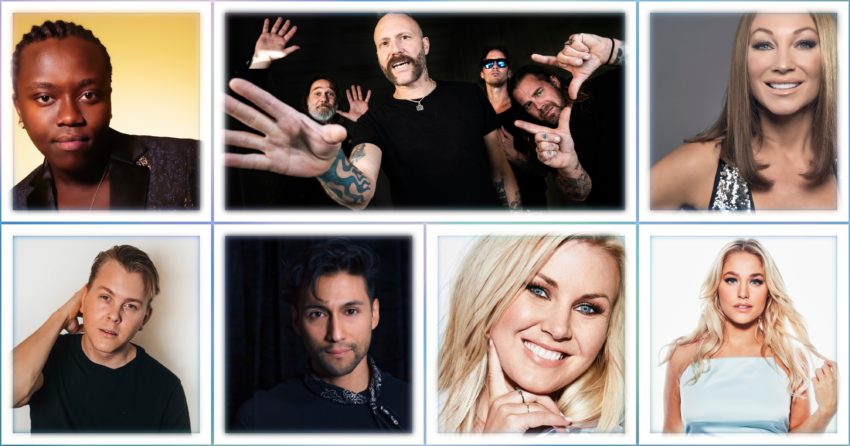 The third heat of Melodifestivalen, sees the return of a Eurovision winner, and a newcomer from Swedish Idol, a heavy metal band and returning contestants hoping to do better than their last entries.
In the previous two weeks, we have seen Danny Saucedo, Arvingarna, Anton Ewald and Dotter reach the finals. Four other acts will also return to the Andra Chansen. Last week, Frida Green, and Eva Rydberg and Ewa Roos joined Paul Rey and Lillasyster.
Saturday evening, another seven acts are ready to fight for their rights to still become this year's winner. Here's a closer look at the seven acts competing in Melodifestivalen 2021's third heat:
Charlotte Perrelli – Still Young
(Songwriters- Thomas G:son, Bobby Ljunggren, Erik Bernholm, Charlie Gustavsson)
Anna Jenny Charlotte Nilsson as she was born, was of course the winner of the Eurovision Song Contest 1999 with Take Me To Your Heaven. She also represented Sweden in 2008 with Hero. Charlotte has made several other attempts to represent Sweden throughout the years. Away from Eurovision, Charlotte has had many other endeavours including playing Eva Peron in Evita, compering Television shows, and bringing up her four children.
Emil Assergård – Om allting skiter sig
(Songwriters – Emil Assergård, Jimmy Jansson, Jimmy "Joker" Thörnfeldt, Anderz Wrethov, Johanna Wrethov)
Now aged 29. Emil has released three albums in Sweden. A native of Undrom, Emil signed his recording contract in 2016. His third album, Leva livet / En samling was his breakthrough, reaching number 5 in the Swedish charts in 2019. Emil has also released over a dozen singles, but he is still waiting on one to really take off.
Klara Hammarström – Beat Of Broken Hearts
(Songwriters – David Kreuger, Fredrik Kempe, Niklas Carson Mattson, Andreas Wijk)
Klara is maybe best known in Sweden, as part of the television series, Familjen Hammarström. She appeared last year at Melodifestivalen, with the song, Nobody, but was eliminated straight away in her semi. Since then, the Stockholm native has released two more singles, DNA and Oh My, Oh My and the other with fellow Melodifestivalen contestant, The One.
Mustasch – Contagious
(Songwriters – Ralf Gyllenhammar, David Johannesson)
Mustach will bring a taste of heavy metal to Melodifestivalen. The quartet comprises Ralf Gyllenhammar, Stam Johansson, David Johannesson and Robban Bäck. The band, under various configurations of members, has been together since 1998. They have released eleven albums, which have found success in Sweden and Finland. Their latest album, Killing It For Life was released in 2019.
Elisa – Den du är
(Songwriters – Bobby Ljunggren, Ingela "Pling" Forsman, Elisa Lindström)
Elisa was born Eva Elisa Lindström in Töreboda, so go find that on the map. Elisa has appeared in Lilla Melodifestivalen as a youngster, and part of the group Lila. In 2009, she became the lead singer of the group Elisa's, which is a dance band that tours throughout Sweden. She participated in Melodifestivalen 2014 with the song, Casanova but was eliminated in her semi.
Alvaro Estrella – Baila Baila
(Songwriters – Anderz Wrethov, Linnea Deb, Jimmy "Joker" Thörnfeldt)
Alvaro is known for his dancing as much as his singing, He was one of the backing dancers for Eric Saade's Popular, Sweden's 2011 Eurovision entry. He competed in Melodifestivalen 2014 with Bedroom in the same heat as Elisa. Elisa came 5th in her heat, Alvaro was 6th. Last year he did better by reaching the Melodifestivalen 2020 final with the song, Vamos Amigos, where he placed 11th, duetting with Mendez.
Tusse – Voices
(Songwriters – Joy Deb, Linnea Deb, Jimmy "Joker" Thörnfeldt, Anderz Wrethov)
Tousin Michael Chiza is a 19-year-old singer in the Democratic Republic of the Congo. Tusse came to the Swedish public's attention as a contestant and winner of Swedish Idol 2019. His first single was a cover of Whitney Houston's How Will I Know. His follow up, Rain, was his winning song from Idol. He has since released 3 singles, and us still waiting for a chart breakthrough.