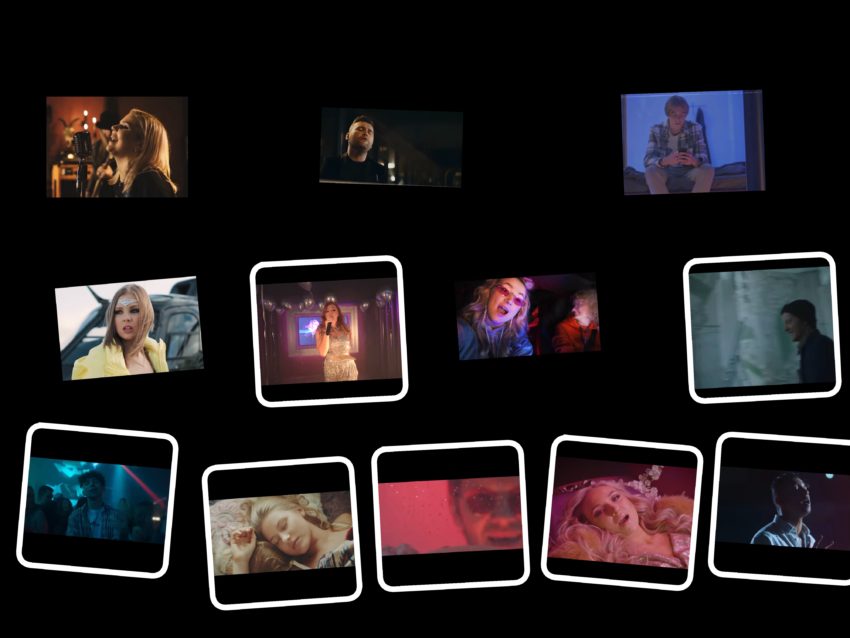 This year's first semi-final of Eesti Laul sees twelve acts competing for a place in the final. The first semi-final will take place on 18 February 2021.
Most of the acts in the first semi-final have taken part in previous Eesti Laul's. Some have even represented Estonia already at the Eurovision Song Contest.
For now let's take a closer look at the artists hoping to represent Estonia at the Eurovision Song Contest 2021. Six will go to the final, to be joined by another six from the second semi-final, to  be held on February 20, 2021. The Eesti Laul 2021 final takes place on 6 March 2021.
Tanja
Maybe you already know Tanja Mihhailova-Saar. She represented Estonia in 2014 with the song Amazing. She finished in 12th place in her semi-final in Copenhagen. In 2019, she entered Eesti Laul with High Heels In The Neighbourhood,as part of The Swingers and placed seventh. Tanja has been a member of several musical groups throughout her career including Nightlight Duo, Ja Belle and Sunday Mood, as well as solo projects. She has built up quite a discography in Estonia, her last being, Meie Siesta with The Swingers.
Hans Nayna
Hans describes himself as a self-taught musician, singer and songwriter. Hans was born in Mauritius in 1989. He formed a musical trio, which took his name when he was 21 years old. Hans toured around Mauritius and the Reunion Islands at the start of this century. He released his first single, State Of My Highin 2013. In 2016 his music began to be heard in Europe, particularly in France. He released his last album, Time Flies in 2017.
WIIRALT
There'll be fights here if WIIRALT win Eesti Laul, as there are seven members, and at Eurovision you can only have six. The group comprises Marta Arula – vocals, Vahur Krautman – vocals and keyboards, Martin Saaremägi – guitar and banjo, Sander Nõmmistu – guitar and dobro, Mihkel Uba – bass and backing vocals , Siim Türnpuu – harmonica and backing vocals and Hans K. Pikani – drums and percussion. The group were formed in 2019, and play a mix of rock and Nashville sound. They released their first record, Tulevesi in 2020.
Kéa
Kéa appeared in the Eesti Laul 2016 with the song Lonely Boy co-written by her fellow contestant in this year's contest, Egert Milder. Back then she finished in 9th place. Kéa performs on cruise ships and claims she has appeared in front of an audience of two at times. Therefore, she feels comfortable singing her entry with an empty hall.
Andrei Zevakin and Pluuto
Andrei Zevakin is a music producer from Tartu. He was in the Eesti Laul 2019 with Emily J and xtrabasic with Hold Me Close. Andrei studied classical piano at school. He has his own YouTube channel and his cover of Ed Sheehan's Shape Of You has over a million views.
Pluuto is a 17-year-old Estonian rapper. He recently issued his debut album, Päripäev.
Karl Killing
Karl appeared in Eesti Laul 2018 with Karl Kristjan and the song Young which placed 6th. Karl plays the acoustic guitar and will probably feature it in his Eesti Laul performance. Last September he released his first solo recording, High Heels.
Nika Marula
Nika sings, writes songs and acts. Nika came 9th in Eesti Laul 2018 with the song Knock Knock, and was quite ahead of her time as her dancers wore face masks. In 2019, she recorded the song Tuult Tiibadesse with Uku Suviste. Later that year she was part of Polina Gagarina's team in the Voice of Russia.
Egert Milder
Egert made a big splash at last years Eesti Laul with the popular Georgia (On My Mind). Egert credits his soulful music to the sounds he hears while travelling the world, although supposedly that's been curtailed for a while. Last year Egert, became the father of a little girl, Milli. His last song, Your Green Is Better was released last year.
Tuuli Rand
Like Tanja, Tuuli has also been the singer for several bands including TuuliKustiPeep, Funkifize, Bliss, Estonian Dream Dixieland Band and Söörömöö. With Liisi Koikson, as part of Söörömöö, Tuuli placed fifth in Eesti Laul 2013. She also placed 10th that year, duetting with the band Ula on Ring The Alarm. This will be her first appearance at Eesti Laul since 2014.
Koit Toome
Koit has already represented Estonia twice. First in 1998 when he finished 12th with Mere lapsed, and then in duo with Laura with Verona in 2017. He started his career in 1994 as part of the duo Code One, scoring several Estonian hits. As well as singing, Koit also acts and his last role was as Raoul in Phantom Of The Opera. He is also known in Estonia, as the voice of Lightning McQueen in the film, Cars.
Kristin Kalnapenk
Kristin Kalnapenk is a former student of the European School of Alicante, graduating in 2014 and then beginning her musical career in 2015. Kristin feels that she is a free bird, who has been immersed in music her whole life. She also likes to dance and occasionally involves aerial acrobatics and dancing within her performances.
Ivo Linna, Robert Linna, Supernova
Ivo represented Estonia in 1996, with the song Kaelakee Hääl duetting with Maarja-Liis Ilus. They placed 5th. Ivo can be thought of as the grand daddy of Estonian pop and rock, and will perform at Eesti Laul this year with his son Robert. Ivo has released many rock albums in Estonia and has been decorated in Estonia with the Order of The White Star.