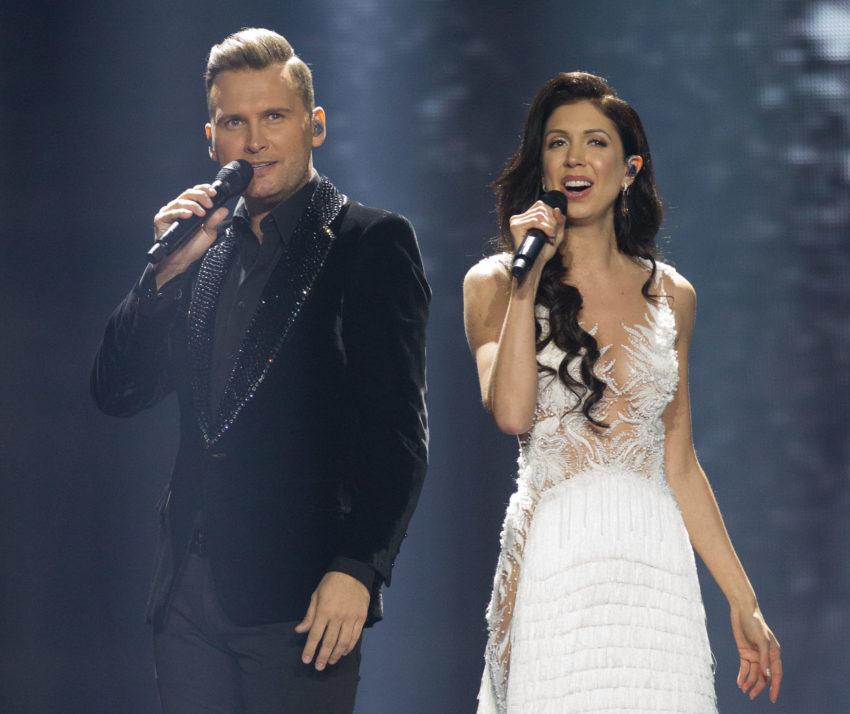 Two former Estonian Eurovision stars united their powers for the 2017 Eurovision Song Contest. The song 'Verona' quite quickly became somewhat of a fan favourite. At Eurovision in Ukraine, they however failed to live up to expectations.
Estonia's traditional national final Eesti Laul was broadcast by ERR with three shows. First semi final on the 10th of February 2017, second semi – final on the 18th of February 2017 and the final on the 4th of March 2017. 10 entries competed in each semi – final and the best 5 entries from each semi final won the ticket to the final. 2020 Estonian hopeful Uku Suviste and 2015 entrant Elina Born were also among the entrants that competed in semi – final 1.
On the final night, after the 9 finalists had performed, the voting took place in two rounds. In the first round, three entries were selected by 50% jury vote and 50% televote for the super final. After the super final round, Laura Pöldvere and Koit Toome won the whole final with Verona and earned the right to represent their country in Kyiv, Ukraine. Both artists had Eurovision experience: Koit Toome in 1998 and Laura in 2005 as a member of the group Suntribe.
In Kyiv, Laura and Koit competed in the second semi final with their romantic mid tempo 79's inspired song. They were set to perform in position 18 according to the allocation draw. However, after Russia's withdrawal, they had to slide down to the 17th position. During the performance, some technical problems occurred. Eventually, they finished 14th with 85 points and as such didn't make it to the final.
Verona – opinions from fans
In order to find out what Eurovision fans today think of this Estonian entry from 2017, we asked our Eurovision Fan Panel. It includes team members as well as fans from all over the world.
🇬🇧 Mhairi O. – I really liked Verona and I was sure it was going to qualify. Maybe if there hadn't been any technical issues it might have. It's also one of the only songs I still listen to from 2017.
🇪🇸 Mária P. – In my opinion it's an average entry, a pleasant song as many others, and a good but not impressive performance. Anyway it seemed to me quite unfair that it only came last-but-one in their semifinal. It wasn't a winning song, but maybe it should have qualified for the final.
Gunec G. – This was my exact favourite in Eesti Laul and I was very disappointed when it failed to qualify to the Eurovision final. I can't believe a slight technical problem came with this much of a price to pay.
🇩🇰 Charlotte J. – I understand why this failed to reach the final. The live performance simply wasn't good. Their vocals sounded off, which it doesn't on the studio version. Unfortunately, as I do actually like this song. Live it was just a mess.
🇩🇰 Alberte B. – I know a lot of people were sad that it didn't qualify, but I'm not. It's not my style at all, and I think it reminds me too much of a lot of other songs. It's super cliche, their voices aren't that good, and I just don't like it at all.
🇦🇺 Craig M. – Estonia 2016 was a song I enjoyed live on the night. The stage presence of Koit and Laura was first class. Laura has had a few tries at Eesti Laul since, and Koit Toome actually represented Estonia at Eurovision back in 1998! These two together were really something.
🇳🇱 🇩🇰 Wouter V. – This just doesn't work for me. I don't mind a dance track, but mimicking an autotune effect vocally apparently requires more skills than they were able call upon. At least we still have the album version to enjoy.
🇨🇿 Josef S. – This schlager duet is classy. It's for sure one of the injustices of Eurovision 2017 as Koit and Laura sung it great and their staging was also impressive. It's really a big hit in the style of Modern Talking. And from time to time it's good to have such a retro entry. I wanted them to qualify and I was surprised they stayed in the semi. Praise for Estonia as a payback for what happened! 👍
🇬🇧 Michael O. – This was a real surprise when it didn't qualify to the final. A super catchy song with some clever lyrics, 2017 had the oddest results ever, lots of good songs were stuck in the semi. This surely deserved better.
🇨🇴 🇫🇮 Alvaro S. – Although this song was not on my top 9, like many other people I was expecting that Verona would have made it to the finals. So what did it go wrong? Was it the mic malfunction? or Koit's awkward looks? Perhaps the performance was too simple for the jury? I really don't know. This was a beautiful song.
Enjoy Koit Toome and Laura's performance from the 2016 Eurovision Song Contest in the embedded video. Below the video, you can read more about them.
Koit Toome – a mini biography
Koit Toome was born on the 2rd of January 1979. He was discovered by Mikk Targo during his schooldays and formed a duo called Code One with Sirli Hilus. The duo made many hits together. Toome and Hilus still perform together from time to time.
He released his first solo album Allikas, that includes mostly his own compositions, in 2006. Toome has a total of 5 albums solo and as Code One. His first appearance on Eurovision Stage was in 1998 representing his country Estonia with his song Mere Lapsed. He also represented Estonia in 2017 alongside Laura Pöldvere. Toome is also a celebrated musical artist who played in famous plays such as Les Miserables, West Side Story, and Hair. Last but not least he won the Estonian Dancing with the Stars in 2007.
Laura – a mini biography
Laura Pöldvere was born on the 29th of August 1988. She is currently one of the most popular Estonian artists. Her musical career started in 2005 when she first took part in the Estonian Eurovision National Final Eurolaul with two entries; her solo song Moonwalk and Let's Get Loud with the girl group Suntribe. Suntribe went on to win the national final became Laura's first Eurovision adventure.
She tried for Eurovision again respectively in 2006, 2009, 2016, 2017 and 2020. She achieved her goal to represent her country for the second time in 2017 as a part of the duo with Koit Toome with their song Verona. She released her first album Muusa in 2007. After she released Muusa, she started her studies in Berklee College Boston and paused her musical career for a while. In 2011, she released her first compilation album Sädemeid taevast which consisted of all her singles since 2005 to 2011 as well as a track from her second studio album Ultra.
Her latest single is her entry for Eesti Laul 2019, Break Me.