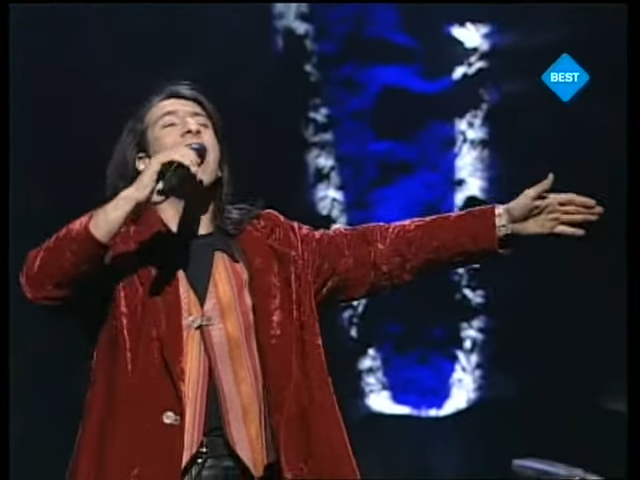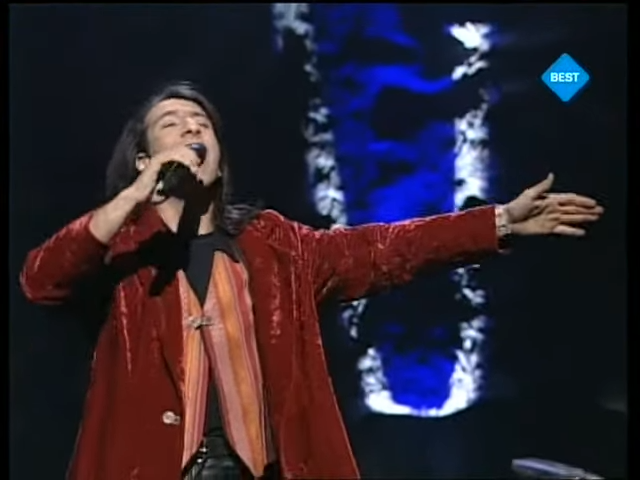 A political message to Greece wrapped in a dramatic beginning and a strong performance. That was what brought Cyprus a 9th place at the Eurovision Song Contest despite only 8 points from Greece. Eurovision fans look back on Alex Panayi's 'Sti Fotia'.

In March 1995, Cyprus held their national final at a nightclub in Limassol. 7 acts competed in the final that was co-hosted by Evridiki (Eurovision 1992, 1994 and 2007). A jury consisting of 20 people decided the result. Alex Panayi finished first with 157 points. Michalis Hatzigiannis (Cyprus 1998) came second with 131 points.
Sti Fotia is written by Alex Panayi himself. The songtitle translates to 'Into The Fire'. The lyrics were seen as quite political as basically he sings about being 'the Greek who always fight alone'. It delivers a warning to Greece as it states that the fire in his soul is in danger of being extinguished. That explains why Greece only gave Cyprus 8 points instead of the traditional 12 points.
At the Eurovision Song Contest, Alex Panayi ended in 9th place. Alex received the maximum 12 points from Hungary. No 10's and instead Belgium and Sweden along with Greece had 8 points for him.
Sti Fotia – opinions from fans
In order to find out what Eurovision fans today think of this Cypriot entry from 1995, we asked our Eurovision Fan Panel. It includes team members as well as fans from all over the world.
🇨🇿 Josef Š. – This is one of my favourite entries from 90's, I like those ethnic songs where you don't need to think too much about the country as it's obvious. And it's perfectly sung, no surprise Alex Panayi is now vocal coach for other artists. I also appreciate the instrumental background of the orchestra as well as the backing vocals. Actually this is a perfect Eurovision entry for me! ❤
🇳🇱 Eric O. – I must say that I do like this song! It's a powerful ballad with a strong message, uplifting performance and clear vocals. The fact that it made the top 10 in 1995 proofs it.
🇩🇰 Charlotte J. – I LOVE this one. It's dramatic, intriguing, has a very good build up – and of course no one can denies that Alex has a fantastic voice. I am drawn into this song right from the beginning, and my attention is kept throughout the song. Great entry from Cyprus – I would have placed it in top 3.
🇬🇷 🇬🇧 Theo V. – Verging on the pompous but delightfully so – I choose to believe that parts of it sound epic. Onstage, it took a while for Alex to look as if he was really into the song (the fabric prop at the beginning might have a been a distraction). I would prefer it if he was looking more into the camera, too. Leaving technical fussiness aside, Sti Fotia is the kind of song for belting out a singalong to one's lung's content. One of the better entries from Cyprus. Either as a singer-songwriter, backing vocalist or vocal coach, Alex has been a very welcome Eurovision presence over the years, too.
🇬🇧 Michael O. – When I first heard the CD version of this song, I thought UK would at least beat this song. However when it got to the stage at Eurovision , this was actually a pretty powerful performance. Very Greek and of its age, but a respectable entry nevertheless.
🇳🇱 🇩🇰 Wouter V. – I'm not sure what to think of this. The mysterious ethnic sound at the start of the song is amazing, setting itself up like a masterpiece. Then, all of a sudden, it goes big on pop and the whole setup is dead on arrival.
🇦🇺 Vivienne F. – I quite like this traditional sounding song, however it seems disjointed, like two separate songs in one. To me the verse is really different to the chorus, it doesn't seem to flow, this might just be me and how I hear it. Otherwise I like the drumming and performance, however it wasn't memorable.
🇷🇸 Miljan T. – Cyprus 1995 isn't my favourite of all time, especially since that year had a huge winner and second place and I love Greece from that year. Cyprus sent something traditional sounding and had a very well deserved 9th place. Not a huge fan of the wardrobe, but we've seen worse.
🇨🇴 🇫🇮 Alvaro S. – I like the introduction to this song. Although it was quite simple it was a good opening for the beautiful melodies. I had the impression at the beginning that the singer struggled to follow the song while he was singer and at some points the backing vocals overshadow the leading vocals. In spite of these flaws I like the feeling this song gives me and it is the type of Eurovision songs that I would listen to remember the past editions of the festival.
🇳🇴 Robert I. – A very good entry from Cyprus, maybe one of their best. And a strong performance.
Enjoy Alex Panayi's performance from the 1995 Eurovision Song Contest in the embedded video. Below the video, you can read more about him.
Alex Panayi – a mini biography
Singer, songwriter, backing vocalist, vocal coach and vocal director, Alexandros Panayi as his name is, can add a lot to his CV. 14 times to date have he been involved in the Eurovision Song Contest in one of those functions. 5 times have he taken part in the national final performing himself, but only made it to Eurovision once; in 1995 where his song Sti Fotia finished 9th. In recent years, he has been involved in Eurovision almost every year, usually as vocal director. His skills have been used by various countries like Azerbaijan, Belarus, Malta, Russia – and of course Cyprus and Greece too.
Through the years, Alex have also engaged in musicals and voice-over for Disney films – and he is dedicated to charity. In particular the Cyprus Anti-Cancer Society has enjoyed his commitment. Furthermore, he was commissioned by UNESCO to write a new musical to mark the presidency of Cyprus in the EU.