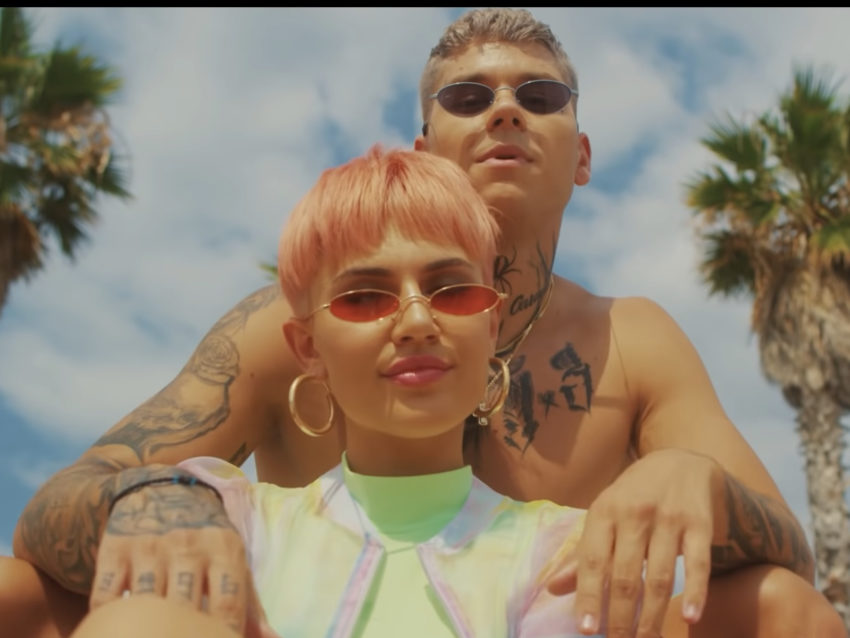 Elena Tsagrinou represented Cyprus at the Eurovision Song Contest 2021 with the song, 'El Diablo'. However, before her Eurovision entry she had already released several songs.
Elena had the honour of opening this year's final, with El Diablo. The song gave her, her first chart single, in her homeland Greece.
Prior to her Eurovision single, she released the song, Πάρε με αγκαλιά ,Pare Me Agkalia, with her cancer survivor, boyfriend, Mike. Elena gained much respect in Greece and Cyprus for her unwavering support of Mike, during his recovery.
At the time, Elena had pink hair, and this song has a summery beach feel, almost a Caribbean flavour about it. The video also has the requisite product placement in it. The song was written by Mike and Marios Psimopoulos, and translates as Take Me In Your Arms. Although the song did not chart, the video has been viewed over a million times.
Para Me Agkalia – opinions from fans
In order to find out what Eurovision fans think of this song from Elena and Mike, we asked our Eurovision Fan Panel. It includes team members as well as fans from all over the world.
Charlotte J. – I like this one. Elena looks so different in here, but this is also a great song, just like El Diablo. Elena and her boyfriend Mike's voices match each other well, and I like the flow through the song. I am never bored despite not understanding the lyrics.
Wouter V. – This song, much like El Diablo, is quite far from the more edgy pop and rock music I usually listen to. But maybe I should reconsider my default searches on Spotify, because I greatly enjoy both songs. This track is all about summer, making today the perfect day to listen to it all day long. And when the song is over, I'm just left with one question: Is Mike the Devil Elena sang about in Rotterdam?
Vivienne F. – Nice song, nice video I liked the colours, I didn't recognise her at first. It's not quite a dance song, neither is it an easy listening song, somewhere in the middle. I imagine listening to it at a gathering and its in the background, it's a good radio song. I like the instruments and the beat.
Josef S. – This is exactly what I would expect at Eurovision from Greece or Cyprus, but I never get it. It is in Greek, nice song with summer vibe and nice beat and immediately makes me think of the holiday at the Mediterean sea. Definitely much much better than the cheap Lady Gaga copycat which we saw in Rotterdam. Again and again, the curse of good artists trying to be someone else at Eurovision just because they are expected to do so.
Takko M. – Πάρε με αγκαλιά by Elena Tsagrinou is a really nice song. The fact that it's a song that she sings with her boyfriend who was lately diagnosed with cancer, but he came out as survivor makes it really emotional. I also like her hairstyle very much.
Aaron S. – I like this song, it is catchy and Elena Tsagkrinou sounds great, however, I do prefer her solo work, and while Mike is also talented I wonder if the track would have been better if it was performed solely by Elena.
Michael O. – This is a nice summery song for lazing on the beach to. The mix of Elena's and Mike's singing merge well together. Would I listen to it a lot, probably not, but when it's on I won't skip it.
Theo V. – Laidback and summery. The lyrics become all the more poignant due to the fact that Elena and Mike are a devoted couple in real life. Elena's styling in the video is very different compared to her Eurovision revamp. Colourful and playful as it is, I still prefer her glamorous Rotterdam look personally. Whenever Covid restrictions permit it, the song itself must be a beach bar staple.
Vica K. – I didn't like El Diablo that much because it sounded a lot like Lady Gaga and the video clip was a copy from Zara Larsson. But I like this song. It is a good summer song and the video clip fits really well. It is nice to hear Elena singing in Greek. I will totally add this to my playlist.
Alvaro S. – On the one hand I like that this song has nothing to do with Lady Gaga, on the other this is like a generic summer latinised hit. This song is dull to me. The duo do not have the chemistry in the video either
You can watch the video for Pare Me Agkalia below and read a little about Elena, after the video.
Elena Tsagrinou – a brief biography
Elena Tsagrinou was born in Athens, Greece on November 16, 1994. She first appeared on television in Ellada Eheis Talento.
In 2013, Elena became the lead singer of the band, Otherview. Their first two songs, What You Want and O Giros tou Kosmou were released as video singles. In 2018, Elena left the band.
Later in the year, she released her first solo song, Pame Ap' Tin Arhi and an English version, Summer Romance.
Four songs were released in 2019, Tsai Me Lemo, San Lava, Logia and Amore, none of which charted, but brought Elena to the attention of CyBc thus she ended up representing Cyprus with El Diablo.
All her releases now feature on the new digital release, El Diabolo – The Album.