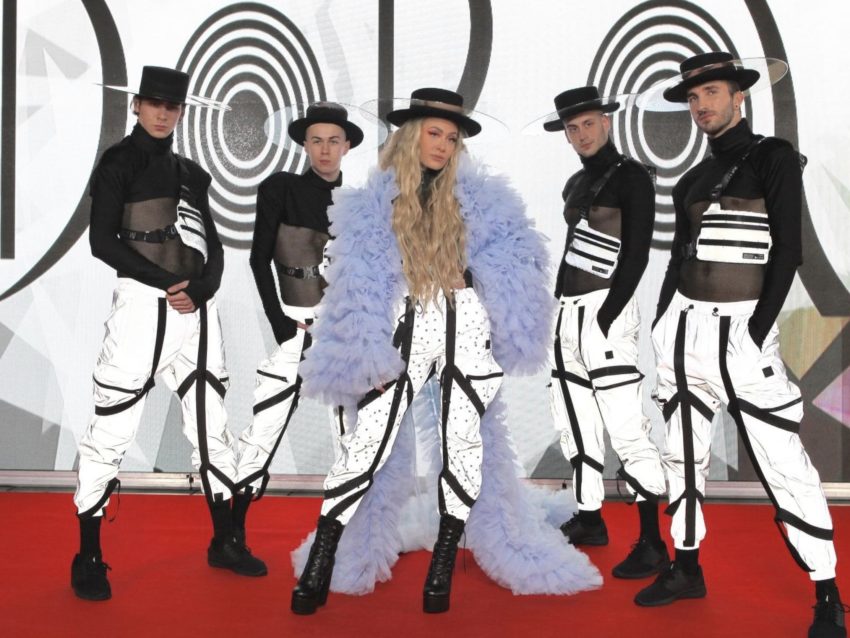 Tonight the Dora 2021 contest was broadcast by Croatian Television (HRT). Fourteen acts competed to be Croatia's entry at the Eurovision Song Contest 2021. The contest was won by Albina.
Therefore, the song Tick Tock will be heading to Rotterdam.  Croatia will perform in the second half of the first semi final on May 18, 2021.
Broadcaster Hrvatska radiotelevizija (HRT) organised Dora 2021 in order to select the nation's representative for the Eurovision Song Contest 2021. The contest consisted of fourteen contestants which you can get to know better.
The Show
The show was held at the Marino Cvetković Sports Hall in Opatija, and was hosted by Daniela Trbović, Barbara Kolar, Jelena Lešić and Doris Pinčić Rogoznica.
The opening sequence showed how scenic Croatia is, while last year's entrant of the cancelled contest 2020, Damir Kedžo sang the lost song, Divlji vjetre. The green room was shown with suitable COVID restrictions in the distancing of each contestant's tables.
During the interval, Vesna Pisarović, who represented Croatia in 2002, entertained with a medley of her hit songs, including her entry, Everything I Want.
The Songs
Alkonost of Balkan (Nina Kraljić) – Rijeka
Looking like a Balkan viking all in gold, Nina followed a charming choral choir, which opened the song. Two dancers paraded around behind her, while her vocals were very strong. The tune isn't that memorable, but the choir take it to a higher level, which should see her chances increase to win tonight. The question is, is it too early for a return to Eurovision? Some of her fellow contestants were witnessed being on their cell phones.
Eric Vidović – Reci mi
No time wasted and straight onto Eric. Eric was all in black while strumming his electric guitar. A large leggy lady walked about on the screen behind him. Bravo to Eric for appearing alone on stage. The song is a bit stop and starty but he was plucking well. Not a good draw at number two.
Ella Orešković – Come This Way
Ella was all in white from head to toe. This is a nice bit of old school eighties soul music. Ella sang very well and the chorus has a good uplifting feel. Ella was also alone on stage although an occasional echoey backing vocal could be heard. Pretty damn good, although she did look a little alone.
Bernarda Brunović – Colors
This was very dark staging, in fact at the beginning it looked as if the lights had gone off altogether. Of course as the song kicked in, the realisation was that colours were now due to appear. A spherical ball lit up with all the colours of the rainbow. Another piece of modern hip-hoppity music, again sung very well. The stage was ablaze with colours in the end. Bernarda was all in black.
Sandi Cenov – Kriv
A nice straight old-fashioned ballad came next. Sandi was in a blue tartan suit. Unfortunatley this type of song went out of date, at the latest 1994, but it made a soothing change from the two more raucous songs that came on before him. A powerful chorus and a nice treat to listen to on a Croatian beach, but for Eurovision its probably doomed.
ToMa – Ocean of Love
ToMa started out silhouetted on a moon. This was an uptempo dance number, and four dancers were on stage to bop along to the song. This was very like Vincent Bueno's doomed Austrian entry from last year. In places, it sounded like the same song. However, ToMa woke everyone up and this would go down well on the dance floor.
At this point our ladies returned to the stage , and with social distancing in place, the question has to be asked, why on earth were forur hosts required – to say one sentence each? , seems a bit overkill… nevre mind on with the show.
Filip Rudan – Blind
Another act all dressed in black, although the city skyline on the back wall looked amazing. This is a sort of soft rock ballad, but without much power. Filip has a bit of a rough singing voice suitable for the song. For the first two verses and chorus he carried around a guitar over his shoulders. Sure enough mid song he gave it a blast before closing the song. Seemed very popular in the hall, maybe one to watch.
Beta Sudar – Ma zamisli
Now this is a bit more like it. A nice catchy song sung by quite the singer, in electric blue. Her show started with a man in a comfy chair, and Beta not happy. He was soon danced of the stage, while being replaced by another. At one point you could be forgiven if you thought they were the stagehands. The catchiest song of the evening so far.
Cambi – Zaljubljen
A dose of the Klapa next from our favourite male quartet of the evening. This type of music requires great harmonies, and they all had these. All in black, they started on the floor, before standing up to sing in a circle. As per some of the songs before, the tune was not that remarkable, but the sound of them all singing together was very pleasant to the ear.
Ashley Colburn and Bojan Jambrošić – Share The Love
Ashley all in red swung in from the ceiling. Sadly, this song was a little flat, and unfortunately the song verged just a little on the sickly. The message was fair enough, but who's in the mood for this type of song any more. A shame as they were a lovely couple.
Brigita Vuco – Noći pijane
Wow, what a nice sultry voice Brigita has. This is definitely one of these songs you could heat blaring out from all these trendy shops in the mall. Partly rapped-sung, Brigita was dressed in sports clothes as she pranced around the stage. Probably not for Eurovision, but it wasn't bad at all.
Mia Negovetić – She's Like a Dream
This is another one of the fancied songs of the night, with Croatia's answer to Ariana Grande. Mia was all in purple silver, looking very modern. Two, or maybe even four dancers were seen somewhere on the stage, but who knows where they were half the time. Definitely a song you could see in the Top 40 these days.
Albina Grčić – Tick-Tock
What a lovely voice Albina has, and clearly this is the most ready for Eurovision performance tonight. Albina has her four dancers well choreographed behind her, and this looks and sound as if some effort has been put into the whole performance. Hardly original with the Tick Tock, but enjoyable enough for 2021.
Tony Cetinski and Kiki Rahimovski – Zapjevaj, sloboda je!
And a hearty welcome back to Tony. He looks exactly the same as he did in 1994.. oh no wait he sounds the same as he did in 1994. This another piece of classic Croatian pop music, sung on a chessboard. Two female singers, dressed like chess pieces added to teh mix, and this shoudl not be written off. Check Mate.
The Results
| | | | | |
| --- | --- | --- | --- | --- |
| | Jury Points | Public Points | Total | Position |
| Alkonost of Balkan | 68 | 77 | 145 | 2 |
| Eric Vidović | 29 | 16 | 45 | 10 |
| Ella Orešković | 26 | 26 | 52 | 9 |
| Bernarda Brunović | 77 | 22 | 99 | 7 |
| Sandi Cenov | 5 | 7 | 12 | 14 |
| ToMa | 64 | 39 | 103 | 6 |
| Filip Rudan | 65 | 53 | 118 | 5 |
| Beta Sudar | 8 | 8 | 16 | 12 |
| Cambi | 47 | 71 | 118 | 4 |
| Ashley and Bojan | 9 | 34 | 43 | 11 |
| Birgitta Vuco | 7 | 8 | 15 | 13 |
| Mia Negovetić | 67 | 52 | 119 | 3 |
| Albina Grčić | 78 | 120 | 198 | 1 |
| Tony And Kiki | 30 | 47 | 77 | 8 |
Croatia At The Eurovision Song Contest
Croatia made their debut at the Eurovision Song Contest in 1993 placing 15th with Dont Ever Cry by Put. So far the best they have finished is fourth, which they've done twice.
In 1996, Maja Blagdan did it with Sveta ljubav and in 1999 Doris Dragović equalled it with Maria Magdelena.
Croatia have finished in the Top 10, six out of twenty-five appearances, the last time now being way back in 2000. In the last two contests they failed to qualify to the final.
Although Yugoslavia won in 1989 with Rock Me by Riva, the win is sometimes credited these days to Croatia.