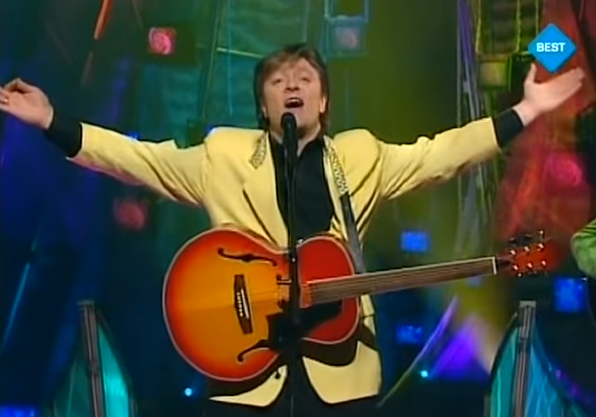 Four times has Norway suffered the zero points destiny. The last one, in 1997 was Tor Endresen's 'San Francisco'. 24 years later, Eurovision fans however still enjoy this entry. To some, this song deserved a much better faith.
Norwegian broadcaster NRK received more than 350 potential entries for the 1997 Melodi Grand Prix final. Eight songs was chosen for the national final that took place on the 8th of February 1997. Among the finalists, we find Geir Rønning who would later go on to represent Finland at the 2005 Eurovision Song Contest. In 1997, his Venter På Deg (waiting for you) only finished 7th.
With 23.9% of the votes, Tor Endresen became a clear winner with the song San Francisco.
At the Eurovision Song Contest, things went terribly wrong for Norway. After four fantastic years in a row (5th, 6th, 1st and 2nd), Tor Endresen suffered the faith of finishing last with zero points.
San Francisco – opinions from fans
In order to find out what Eurovision fans today think of this Norwegian entry from 1997, we asked our Eurovision Fan Panel. It includes team members as well as fans from all over the world.
🇨🇿 Josef S. – As I grew up in 90s I like this style of music as I hear the general trends as well in the Eurovision songs from this period. San Francisco is a pleasant folky song, which I don't mind at all as I prefer similar entries. Four guitars in one performance is also quite nice, and I always prefer to see backing vocalists on stage as well, so I am happy in this case.
🇩🇰 Charlotte J. – Zero points for this? No! What was wrong with Eurovision that year? This is catchy and well performed. It's not a winning entry, but I think it at least deserved top 10. Looking at the other songs in Eurovision that year, this is actually my 4th. I very much still enjoy this one, and with Ketil Stokkan returning to Melodi Grand Prix this year, I did tell my Norwegian friends that I was hoping that Tor Endresen would return too. Maybe next year?
🇨🇴 🇫🇮 Alvaro S. – Before Las Vegas, there was San Francisco. I found the singer charming and the song has a cheerful feeling. It was a little bit harsh to get to know it received 0 points. This is the type of feel good song I would consider listening to at any time.
🇦🇺 Vivienne F. – Norway was a grand toe-tapper, I loved the intro, it was a fun inter-generational song that all the family members could get up and dance to at a party or wedding. It's one of those songs that doesn't date because of its genre. I also liked Cyprus, Turkey, Ireland, Iceland, and Greece, there were a few nice ballads, and a few fun songs. I think Norway deserved points though, it was good!
🇬🇧 Michael O. – This reminds me a bit of their Brandenburger Tor (Norway 1990), tacky yet enjoyable, but no surprise it scored zero.
🇳🇱 Jacques H. – Since the 1980s,'90s and even far into this century, Scandinavian countries patented this vivid, joyful, upbeat musical style, which has sprung from the remotest part of Motown. But if you put all those songs in a blender, it turns out they all sound monotonously alike. In the video you can hear Dutch commentator Willem van Beusekom say about Tor Endresen and his backings that they are "nice and sociable guys". San Francisco is vocally average at most and musically worn out. "Not a real hit," adds Van Beusekom. I fully agree with him!
🇬🇧 🇹🇭 John E. – Not one of my favourites…I felt it to be very old-fashioned…nice background music but nothing remarkable or memorable which is unusual as I usually enjoy the Norwegian entries. The singer tries very hard to breath life into a weak song.
🇳🇴 Steinar M. – Whilst some think this is our worst entry ever, I think that "honour" belongs to I Evighet the year before! OK, this is a dated song, with some extremely silly and cheesy lyrics. The use of English words make it all very contrived. Not a great song, but musically not that awful I think. Just a simple slightly country-ish song. Nothing harmful either. Just not in line with what people wanted in 1997.
Enjoy Tor Endresen's performance from the 1997 Eurovision Song Contest in the embedded video. Below the video, you can read more about him.
Tor Endresen – a mini biography
With 12 Melodi Grand Prix participations, Tor Endresen knows how to write a good catchy song and how to entertain an audience. He first appeared in the Norwegian final in 1987 with the song Hemmelig Drøm (secret dream) which finished in 9th place. His so far last appearance dates back to 2015 where he in a duet with Elisabeth Andreassen came 4th.
Tor Lars Oskar Endresen is born in 1959 in Bergen, Norway. His debut album, in collaboration with  Pål Thowsen, Call Me Stranger was released in 1986. On that album, we find the hit single Black Rain which was in the run to be used for the James Bond film 'The Living Daylights'. In the very end, A-ha was chosen instead.
In 1991, Tor Endresen released his first solo album simply titled Solo, and from then on, there was no looking back. He became a household name in Norway. His many national final appearances only produced one victory; in 1997 with the song San Francisco, which unfortunately could be added to the list of Norway's four times scoring zero points. Tor had already been at Eurovision once before though provided backing vocals for Karoline Krüger in 1988.
12 Melodi Grand Prix appearances from Tor Endresen
2015: All Over The World – duet with Elisabeth Andreassen (4th place)
2006: Dreaming Of A New Tomorrow (5th place)
2005: Can You Hear Me – with the group Seppo (5th place)
1999: Lover (3rd place)
1997: San Francisco (1st place)
1994: Aladdin (2nd place)
1993: Hva (3rd place)
1992: Radio Luxembourg (2nd place)
1990: Café Le Swing (3rd place)
1989: Til Det Gryr Av Dag (2nd place)
1988: Lengt (4th place)
1987: Hemmelig Drøm (9th place)